With currently 34 boards and over 1700 pins, it was time I finally took the plunge.
It was time that I actually made something that I found on Pinterest.
I did and it was awesome, but don't take my word for it…
Last Saturday night I had Cheryl, Deb, Monique and Morgan over to enjoy several glasses of wine have a BlogHer post mordem and with my husband out of town, Lucas served as my co-host. Dinner was ordered over the phone, everyone brought wine and I made dessert.
Behold Oreo Cookie Cheesecakes:
(From Martha Stewart's Cupcakes)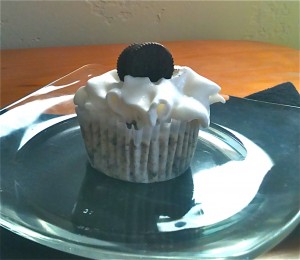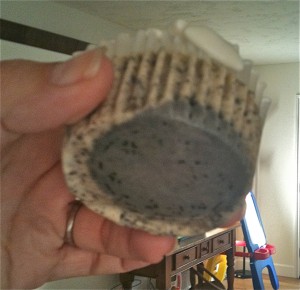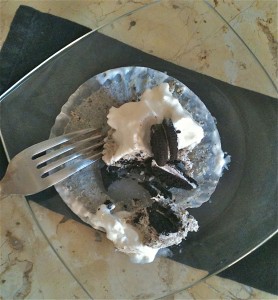 This is HUGE for me because I don't cook or bake, nor do I take very good photos of food. Please visit La Mia Vita Dolce for proper magazine style shots that will make you drool.
The recipe:
Makes 30
42 Oreo, cream-filled chocolate sandwich cookies, 30 left whole and 12 coarsely chopped

2 pounds cream cheese, room temperature

1 cup sugar

1 teaspoon pure vanilla extract

4 large eggs, room temperature, lightly beaten

1 cup sour cream

Pinch of salt
Preheat oven to 275° F.  Line standard muffin tins with paper liners. Place 1 whole Oreo cookie in the bottom of each lined muffin cup.


In the bowl of a stand mixer, fitted with the paddle attachment, beat cream cheese on medium-high speed until smooth, scraping down sides of the bowl as needed. Gradually add the sugar, and beat until combined. Beat in the vanilla.

Drizzle in eggs, a little at a time, beating to combine and scraping down sides of bowl as needed. Add in sour cream and salt, beat to combine. Using a large spatula, fold in the chopped Oreo cookies.

Divide batter evenly among the cookie-filled muffin cups, fill each cup almost to the top. Bake, rotating muffin tins halfway through, until the filling is set, about 22 to 28 minutes. Transfer the muffins tins to a wire rack to cool completely. Refrigerate (in the muffin tins) at least 4 hours (or overnight).

Add a dollop of whipped cream and a mini Oreo for the coup de gras.

I defy you not to love these.
And if you're not on Pinterest yet, what are you waiting for?! It's super fun.
Julie of Dutch Being Me has come up with a fun idea called 52 Weeks of Pinterest, challenging everyone to do just one thing each week inspired by a pin they found on Pinterest. Check it out! The challenge begins the first full week of September and I am definitely participating.

Related Posts: