As BlogHer '11 is still sinking in and I am reeling from all the new inspiration and sweet memories, I have to share one last post… the fun one, the evidence, the photos!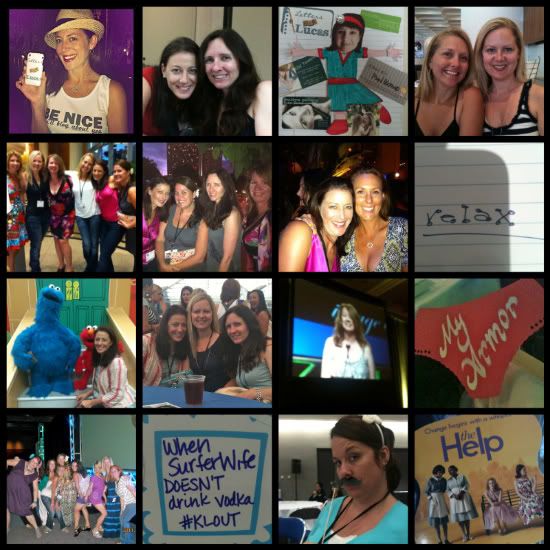 1. Let the games begin: arriving at the hotel Wednesday night in full blogger garb and new Uncommon custom iPhone case. Love!

2. My BlogHer experience would not have been complete without a photo with my blogging idol, Sherri of Old Tweener. Sigh! She is a beautiful person inside and out.

3. Flat Mandy of Mandyland enjoyed the Women Create Media workshop a little more than the rest of us.

4. Twitter twins, soul mates in many ways and my roommates for the weekend, the beautiful Natalie of Mommy of a Monster and Nichole of In These Small Moments.

5. Night 1: Gigi, Nichole, Lori, Natalie, me and Katie (my third roomie for the weekend).

6. Me, Sherri, Katie and Lori.

7. Another one of my favorite bloggers: the stunning Poppy of Funny Or Snot, who wasted no time staring at the enormous zit on my chin. Thanks for that!

8. Relax: My mantra for the weekend.

9. Every child's fantasy; meeting Cookie Monster and Elmo.

10. How lucky was I to spend so much time with these lovely ladies?

11. Hearing Lori of In Pursuit Of It All read her glorious piece, The Red Underwear at the Voices of the Year ceremony was truly moving and a highlight of my weekend.

12. I was proud to wave (and wear) red panties!
13. Best. Night. Ever. I don't get out and dance enough.

14. Yes, it's true SurferWife is AMAZING is real life too and the Eyedews she was giving away like candy were the talk of BlogHer.

15. Katie of Slutier Nation and I had a little too much fun with mustaches.

16. A pre-screening of the movie, The Help courtesy of DreamWorks was a wonderful cherry on top of my weekend. I recommend this book to everyone and the movie did not disappoint. Plus, the theater was dark, quiet and cool and gave me a little time to reflect.
Related Posts: