I am so excited to have one of my favorite bloggers here today with a letter to Santa!
This week's Letters For You guest is the incomparable, Gigi, also known as Kludgy Mom.
Gigi is one of the most knowledgeable and generous bloggers I know and I'm proud to call her a friend and practically a neighbor. Okay, not really, but she does live in the same state and I am going to see her in the flesh very soon. Right, Gigi?!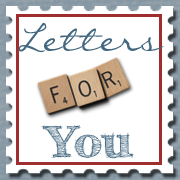 Dear Santa,
Let me start this letter by saying thank you for granting all of my wishes from last year's Christmas. Well, most of them anyway. I'm still waiting for you to eliminate the wrinkles on my face and the fat balls on my thighs. What's the deal? Do you consider cosmetic items too vain?
So let's get to this year's list.
Gigi's 2012 Christmas List
1. I wish that my children would give a crap when there is dirt under their fingernails and toenails. Also, that they would give a crap about flushing the toilet and not leaving toothpaste blobs the size of Kim Kardashian's ass on the bathroom counter.
2. I wish that you could take care of that noxious smell that comes out of my elderly dog.
3. I have a few reality TV wishes. I wish that you could tell Mark Burnett to move Survivor back to Thursday nights. This whole Wednesday night thing really throws me off. Also, tell the producers of The Amazing Race to stop putting ex-Survivor cast members on their show. It's getting old. Can you tell Padma Lakshmi of Top Chef to stop talking like she has a giant piece of salami shoved between her top front teeth and the inside of her lip? And what can we do about Giggy on the Real Housewives of Beverly Hills? Because that dog bugs.
4. I would appreciate very much if you could have that PR person for Avon stop sending me requests to publicize their really odd singing contest.
5. I wish that our neighbor across the street, who my husband has affectionately dubbed Hillbilly Bob, would only park 3 cars in front of our house each night instead of the current 6. If this is not doable, can you please have one of the 6 cars "accidentally" run over our other neighbor's Basset Hound, who howls mournfully nonstop from sunup to sundown? Thanks.
6. I wish that pedicures would last forever, my roots didn't need constant touching up, there was one pair of jeans in the universe that fit me well, and there was no need – ever – for a bikini wax.
7. I wish that you could arrange for there to be no more Elves on the Shelves. I've already disappointed my children and dashed their Christmas hopes by forgetting to move Mr. Snowflake last night. I simply can't handle the pressure of moving that damn thing every night for a month. Plus, the elf is creepy. Also, why are his legs glued together? He should be poseable, like Gumby. Or Barbie, but without the boobs.
8. I wish that my husband would just get the idea that I love presents and that even if he doesn't want a present on a holiday, I still do. And I want it to be fabulous (meaning, not wrapped in a Wal-Mart bag).
Well, Santa, I guess that's it for this year. I hope you don't think I'm greedy. I tried to keep my list to only the bare essentials. I know you're really busy, so, feel free to skip getting my kids anything this year so you can devote time to my list. I'm sure they won't mind!
Hugs and Kisses,
Gigi
Related Posts: