A couple of months ago, Rachel of Mommy Needs a Vacation shared a beautiful letter for my series, Letters For You called One Tear.
Rachel wrote a heart wrenching letter to her father, Stinson, whom she was afraid of losing the year before.
Stinson read his daughter's letter for the first time the day it ran here was compelled to respond.
I am extremely honored to share his words to his daughter with all of you today.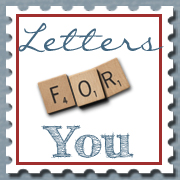 Dear Rachel,
I've had a chance to read the letter you wrote several times today. Each time I read it, it brings me to tears. It is not only well written but so obviously heartfelt and sincere. It is a treasure I will covet the rest of my life.
I very much enjoyed this past week when all of you were here. It was a wonderful week in which there were so many special moments with each of you individually as well as a family as a whole. More times than I can tell you during this past week, I thought about the last time you were here with Sadie and Tyler (June 2010). That wasn't nearly as good a visit because as you know, I was only days away from back surgery and in horrific pain the whole time you were here. It was almost impossible to enjoy the kids on that visit because of the pain although I do remember that the kids were both sweet in their own way and seemed to understand I wasn't feeling good. There were times they each made me forget about the pain—Sadie asking if I had my yogurt and bread for dinner and Tyler crawling at the speed of light across the room after who knows what.
This past week was a stark contrast to your previous visit. Whether it was Sadie or Tyler asking to use my iPad, hugs in the morning and at bedtime, the expression on Sadie's face when "driving" the golf cart or Tyler reaching for me the afternoon I got him up from his nap, so many moments generated special memories of fun times and represented the blessings of a life I almost lost. Sharing some of the best wine I have collected over the years with you was something I had dreamed about when you were Tyler's age but little did I know at the time that the enjoyment of wine would become a shared passion.
Playing golf with you and Josh was something I couldn't have fathomed in June 2010. Getting to play golf with Josh so many times during the week was wonderful not only because it was fun but because it was special to spend some one on one time with my son-in-law and rejoice in the fact that he is the father of my grandchildren and husband of my daughter. More times than I can recount, you confirmed how good a mother you are and why you have been one of my most cherished pride and joys for over half of my life. I shall never forget the expression on your face when Sadie and I walked in from "playing" golf. You could tell we had a great time before anything was said and without saying so, your expression revealed that you knew she had enjoyed the time with her grandfather.
Life is a gift that becomes more and more precious with time. When you come as close as I did to losing it, as you so aptly expressed in your letter, it becomes all the more precious as experienced last week. Your mother and I are, I suppose, in what is often called the "golden years" and you, Josh, Sadie and Tyler are a big part of why they really and truly are "golden."
I love you all,
Dad
Related Posts: