Jennifer of Midwest "Mom"ents is kind and always very supportive. She has a darling blog about her life and two adorable daughters and keeps late Twitter hours, which is where we connect the most.
I am grateful to have (Not Just Another) Jennifer here today with a sad, yet very loving letter to her mother.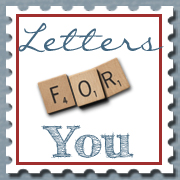 Dear Mom,
How do you express thanks for an entire childhood in one letter? So much to say, I don't know where to start. I know I was always a bit of a daddy's girl. I always thought it was because he and I were more alike. But now that I'm older, I realize I'm exactly like you. That's probably why it sometimes felt like magnetic poles pushing us apart when I was young, especially a teenager. But no matter how sassy or unappreciative of you I was, you always gave more with a smile. I don't know how you did it. I know some of it is the innate maternal reaction of a mother. I love our girls, too, and that definitely plays a part in being able to tolerate a lot. But I certainly don't have a servant's heart like you do.
Now that I've been doing this SAHM gig while I'm unemployed, I gradually find myself doing more and more of the same things you did. I can't sleep at night. I've always been a night owl like you, but I mean, I find myself awake until 1 or 2am most nights. Which is crazy since the girls are up at 6:30am. And there's no reason why I should be sleep deprived except my own inexplicable need to stay up reading a book, doing dishes, watching a show, doing laundry, playing Angry Birds, putting together a craft project I found on Pinterest, etc. Unfortunately, the tired version of me is much less patient with the girls than you were with us.
I know there were times sis and I got in trouble and were sent to our rooms or heard, "Just wait til your father gets home!" But I really don't remember you yelling at us or punishing us. I think of you working in the garden, sewing dance costumes, wearing yellow rubber gloves to clean, baking with us, teaching us how to crochet, playing games with us, working out to Richard Simmons, cooking awesome spaghetti, teaching us how to make the bed properly. I remember you consoling me after nightmares and kissing my boo-boos better and cheering me on at softball games.
And I remember you as an incredible wife. You always made sure that after we gave Dad our big welcome home hugs and kisses that we left him alone to "watch the news" for 30 minutes, AKA, take a nap. You were making dinner, and I'm sure we drove you nuts, but you knew he needed time to decompress, and you willingly gave him that space. You never fought with him in front of us. We could tell when you were mad, but you just said his name in a terse way, then pursed your lips, and bit your tongue. We knew you would be discussing things later, though. And now that I'm older and know more of the history of your relationship, I'm in awe of your devotion to being a good wife.
So when you started having memory trouble a few years ago, I felt like I should be there for you the way you have always been there for me. But I had a newborn, a husband, and a full-time job. I didn't visit you as often as I should have to play games or cards or Memory with you. And I was a little bit in denial, to be honest. Now that you have been diagnosed with short-term memory difficulty and dementia, I can see how you had been faking it for much longer than we knew about it.
The part that's the most difficult for me to grasp is the paranoia that's begun this past year. The night you left me a message at 2am saying Dad was having you committed and if you disappeared that you wanted someone to know what had happened was the last time I went to bed without my phone on the nightstand. Then you decided that the neighbors who live in the house behind you wanted to break in the sliding glass door from the patio to your bedroom to attack you. That was about six months ago. You've been sleeping on the couch in the living room ever since. And a couple of weeks ago, you told me that Dad stole $400 from you.
I can't imagine how horrifying it must be for you to feel that your husband is plotting against you and feeling trapped and isolated. I love you so much, and it's heart wrenching to see you go through this and be unable to do anything to help. You are the kindest, most generous person I know, and you do not deserve to spend the golden years of your life in this kind of hell.
Here's to you, Mom, the one I admire and strive to emulate and if I'm being perfectly honest, am terrified of one day becoming.
Related Posts: