Katie is the genius (not to mention Child, Adolescent, and Family Psychotherapist and Parenting Expert) behind Practical Parenting and I have learned so much from her posts about being a better mom.
Her potty training tips are awesome, her post, The Great Mom Debate is one of my favorites and she even inspired the Valentine's Day love notes I made for Lucas. 
I am happy to have Katie here today with a letter to her friend Sarah. Friendships are so important and the ones that stand the test of time are unbelievably precious. We should all be so lucky to have friendships as strong as the one Katie and Sarah share.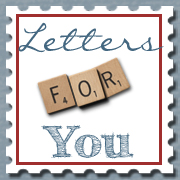 Thank you so much to Tonya for having me here today. I have loved her letters for quite some time, as she often echoes the thoughts that run through my mind.  Her letters are beautiful and always heartfelt, no matter the topic at hand. I often leave here thinking that I should do this too…write down the things I should have said or still have the opportunity to say. When she started Letters for You it was almost as if she heard my silent plea. I'm not sure that that I would find a way to sit down and write the letters that should be written on my own time, but I am honored to have the chance to share one here.
Dear Sarah,
It was over 36 years ago that our mothers first planted the seed of friendship for us. It was over 36 years ago that they both thought, thank god, a playmate for my little girl.    
What started as a blind date in the sand box flourished into a friendship that I'm not sure even they envisioned. What began as digging, board games, and Strawberry Shortcake grew into the best friendship I have ever known.
In you I found another sister. A sister who would balance me out without the added sibling rivalry (we've never once felt the urge to compete). A sister who would stand tall by side and never, ever waiver. A sister who would always remind me of home.
Through countless tubs of Rainbow Chip frosting and repeated viewings of Planes, Trains, and Automobiles, we survived those tumultuous years referred to as "puberty".
Through bowling trips with John and Russ, weekends skiing in Vermont, and long summer nights full of big dreams, we conquered high school. We escaped the mean girls, played sports against each other without hard feelings, and laughed our way through high school dances.
Through beers, stories, dinners, and a few more beers, we enjoyed every moment of our time in Boston. Despite attending different colleges, we always found time to just be us.
But it wasn't always easy…
At times, we've lived continents apart. At times, we've lived states apart. Today we live 3,000 miles apart. The distance has never felt larger.
We've helped each other through some very difficult life events. Events we never expected to endure.
Together we've survived suicide, cancer, infertility, and family strife. Oh, the never-ending family strife.
Together we said goodbye to my father, who always considered himself your father too, and my Nana, who was just as much yours.
Together we remained strong as we waited for the signs of remission when cancer hit a family member. Together we celebrated good health and new beginnings.
Together we fought my long and exhausting battle with infertility. We talked, cried, and laughed our way through the ups and downs until we reached the end.
Together we welcomed four babies into this world, just as we always knew we would.
Together we learned to separate our families of origin from our growing families.
Together we learned to find our voices and speak up for the needs of our own little families. 
Together we learned to walk on.
Friendship is a funny thing. At times, it can come and go. As some friendships fade away, new friendships emerge. Some people say that best friends don't exist beyond high school, that adult friendships are different.
But I know better. 
I know that some friendships are meant to last a lifetime.
Your friendship has been the one constant all of the years. Your friendship has enabled me soak up every bit of enjoyment from the good times and to just survive the not-so-good times. Your friendship has taught me to be strong, loyal, and loving.
Above all, your friendship has taught me the value of just being me. And for that, I will always love you.
Love,
Katie
Related Posts: