One of the main reasons my series, Letters For You exists is because of the gentle encouragement from my dear friend and fellow writer, Nichole.
I first fell in love with Nichole through her words at In These Small Moments and then had the incredible fortunate to meet her last August at BlogHer. Since then, our children have met and she and I have shared many heartfelt phone calls, tweets and text messages.
In many ways, Nichole and I are kindred spirits. We have suffered great loss and extreme joy and write about both.

I am so very proud to have Nichole here today and even more grateful for her friendship.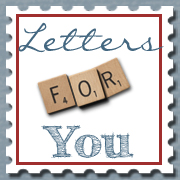 Dear Mom,
There are some nights when Craig and I come downstairs after putting the kids to bed and we're so exhausted we just fall in a heap on the couch.
Parenting is difficult enough even when you have another person to lean on.
But, when I was a little girl, you didn't have that support system.
You did it alone and you did an amazing job.
There are so many things for which I am grateful to you, but there never seems to be the right time to tell you.
So, I'll share just a small handful of them with you now.
Thank you for always being honest with me…for telling me the truth about my dad's death and trusting that with your help, I could work through it.
I am the woman I am today because of your encouragement to think through what I was feeling and to speak my mind with conviction. Thank you for never asking me to stop talking.
Thank you for sometimes splurging on toys. I now realize that you probably used your last dollars so that I could experience the joy of an occasional new toy. My Holly Hobbie, Colorforms, and Baby Alive are etched into my memory forever.
Thank you for never making a promise to me that you couldn't keep and for always keeping the ones you did. You taught me that your word was gold.
Thank you for always being there to tuck me in at night….for scratching my back and talking to me at the end of the day. Those moments reminded me that you would always be there.
Some of the little things that you probably don't think I even remember influence me as a mother. Thank you for always making cakes for school parties, playing Scrabble with me, and having slumber parties with me on the pull out sofa.
I always knew that as long as we had each other, we would be just fine. Through simple gestures like reaching for my hand to cross the street until I was a teenager, to comforting me when I had my heart broken for the first time, you taught me that together we could get through anything.
Thank you for showing me what it meant to be a mother. For teaching me through your own example what sacrifice, commitment, and determination look like.
Thank you for letting me spread my wings and leave when it was time. I hope to have that same courage when my own children grow up and move away. I hope that I can draw from the strength that you showed me then.
The childhood that you gave me was also a gift to Katie and Matthew. The lessons that I learned from you permeate their lives and I could never thank you enough for that.
I love you big as the world,
High as the sky,
Deep as the ocean,
Forever and ever,
Chole
Related Posts: