Sentimental clutter is the adult equivalent of a teddy bear.
– Ellen Madere
I don't like to shop all that much, I have what I need plus a few extras. My closet isn't bursting at the seams with articles of clothing I never wear. I'm good about purging. If I haven't worn an item in two years, it goes to goodwill or the garage sale pile. 
My shoes are kept in boxes and are organized by style and color.

Lucas has a space of his own in our home and so does Charlie, our new puppy. My husband has an entire room to himself, granted it has a treadmill and spin bike in the middle of it, but aside from exercising in there, I steer clear.

The rest of our house is orderly too, everything has a place. There is very minimal clutter laying around, apart from weekly mail, monthly magazines I know I'll never get to and things for me to file.
And therein lies my problem… my confession of the day. I file everything! I keep things. As far back as I can remember, I have kept tubs and files of stuff. Stupid stuff.

I save ticket (movie, concert and airline) stubs, playbills and maps, restaurant business cards and museum brochures.

I have a hard time getting rid of wedding invitations, birth announcements, thank you cards, letters and birthday greetings.  
I hesitate to throw away any of Lucas' artwork, so I place each and every page in sheet protectors and keep them all together in big three-ring binders.

I'm reluctant to delete photographs and if you follow me on Instagram, you know I take a butt load of photos! They aren't quite as well organized as the rest of my stuff, but I keep every singe one.

I struggle almost daily with letting go of junk.
It's all junk.
I'm not exactly hoarder material, though my husband might disagree, but I definitely have difficulty parting with these sentimental mementos.
Sentimental to no one but me.
It has gotten to the point where it is really starting to bother me and make me mad at myself.

I like to think I'm a rational person, I realize I lived the event and have the memory tucked away in my heart and mind, so what's my problem?
I doubt Lucas is going to ever care about the things in the overloaded French memo board in his bedroom, things I've been keeping on his behalf. Is he?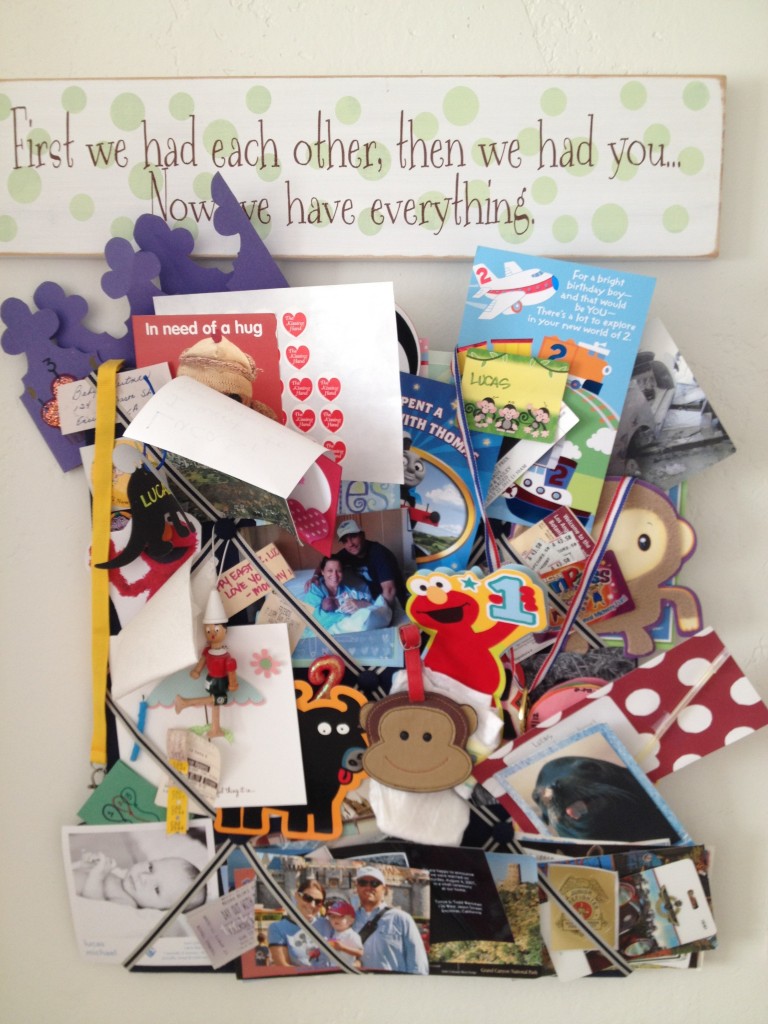 It's not like I sit around with my tubs of scraps of paper and relive my experiences. Even if I had the time, I wouldn't do that. And yet, I am faced with the challenge of throwing away things I'm not all that attached to.
Any advice, or maybe a confession of your own?

Related Posts: