Big supporter of Letters For Lucas and all around lovely person, Deirdre of JDaniel4's Mom is my guest today with a letter to her very curious, very  insightful and very astute son. Ah, to have all the answers….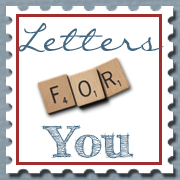 Dear Son,
Your mind is always reeling with ideas, thoughts and questions. You keep me thinking. Just last week when I sat in your room building a Megablocks' tower with you and the questions started flowing. One after another they slipped from your mouth seeking answers.
The first stream of questions were about being perfect. Am I perfect? Are you perfect? The truth is that neither you or I is perfect. You have been with me day in and day out for almost five years and you know that I have made mistakes and have stumbled over the best way to do things. I am very far from perfect. I can honestly say that you are not perfect either. You can be as impulsive as I am when it comes to making decisions. If only we would both slow down and think through our choices rather than rush into them, we might be a little closer to being perfect. 
Then you turned the questions to ones focused on wanting to know if I was better than you or you were better than me. The truth is I can't be better at being you than you will be. You have been given very special talents, gifts, and interests. There is no way that I can be a better you than you will be. When you get as old as I am I hope you will see that I tried to be the best me that I can be and that you have been working on being the best you. I think that what is important is not that we are better than someone else, but that we are the best people we can be.
Your thoughts than streamed from who we are to who God is. We have taught you to believe that God is everywhere  and that He made all things. You wanted to know if He will be here when the world ends and will He just create a new world when we are gone. It is amazing to hear the deep thoughts that you think about. Many times I don't have all answers to the questions you think up. I  know I didn't in this case. All I could tell you was that we probably won't be alive to know about the end of the world. We know He was here before the world began and that He will be if it is gone. Then I tried to steer you towards talking about our taking care of the Earth, but you didn't want to go there.
Where did your thoughts roam to next? You next wanted to talk about divorce. You talked to me about an episode of Arthur where his friend Buster's mom was sad about being divorced at Christmas time. You wanted to know if I would ever leave your dad. I told you the truth. I plan to be with him forever. Then you wanted to know what I would do if your dad decided to leave me. Sometimes one parent just leaves you told me. I told you your dad and I made a promise before over 100 people to work on our marriage even when it gets hard when we got married. I checked with Dad about your question later that night after you had gone to bed. He is with me on working any problems that come up and living up to the promise we made. 
Thankfully after our talk about divorce it was time to put on pajamas and get ready for bed. You had already given me so many things to think about. 
Your questions my son have always  made my mind reel and have caused the place in my heart the love for you lives grow a little more. I am so blessed that you share the questions on your heart and mind with me! As you get older I hope you will continue too. They challenge me to think! They also cause me to I grow to be a better me. I love your for that and so much more!
Love,
Your Mom
Please follow Deirdre on Facebook, Twitter and Pinterest.
Related Posts: