My husband met Dave Matthews.
I'm still having a hard time getting my head wrapped around it.
If you have been here before, then you know the following:
I'm the die-hard fan.
I'm the one that sets an alarm to buy concert tickets.
I'm the one scouring eBay, Craig's List and StubHub for better seats.
I'm the one that owns every CD.
I'm the one that knows every lyric.

I'm the proud member of the Warehouse, the official Dave Matthews Band fan club.
And yet, this happened: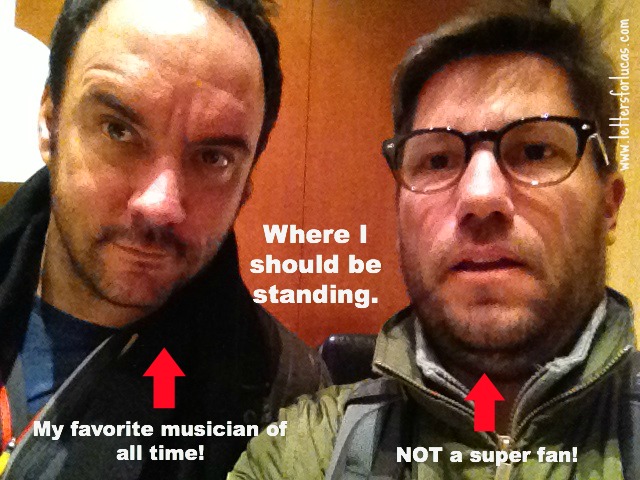 So, here's the story that has become our pillow talk…
Todd accompanied his friend, Josh to Boston on Sunday to help him purchase a custom built car and in the days leading up to the trip, Josh e-mailed him about what else they could do while there. Turns out the Dave Matthews Band was playing in Boston on Sunday night.
A portion of Josh's e-mail:

As soon as Todd received it, he laughed out loud and shared it with me. I was quick to offer the boys an activity for the night, because I know Todd would never dream of attending a DMB show without me; they could hang out in the hotel with Lucas while I went to the show! Wishful thinking.

A few days later, Todd and Josh are pulling up to the Ritz Carlton on Boston Common close to midnight and who should be there too? Dave Matthews himself along with one body guard.
While Josh checked in, Todd waited while Dave graciously talked to two young fans and the bodyguard held an elevator door open. Todd told Dave  what a HUGE fan his wife is, how we've seen him perform at private shows and many concerts over the years and asked if he could take a photo.
Todd said Dave was humbled, unhurried and very nice. Of course, I wouldn't expect anything else.
Todd sent me the photo and I couldn't believe my eyes. I immediately called him and then may have started crying.
Talk about being in the wrong place at the wrong time.
My husband met Dave Matthews.
Swoon.
Sigh.
Swoon. 
Related Posts: