Imagine being seated at a table at one of the most prestigious restaurants in one of the most beautiful places in Orange County and have no clue what is going to be served.
Two weeks ago, I was lucky enough to be included in The Trend Tribe's Five Crowns Chef's Supper (#TTT5Crowns) and it was truly a magical evening. Executive Chef Greg Harrison knocked it out of the park! 
My awesome company for the night included fellow tribe members: Nicole, editor-in-chief and founder of The Trend Tribe, Deb, Beth, Wendy, Sarah and Sharon.

When many locals think of Five Crowns they typically think of an old English pup, a stogy, dark place, where aging grandparents celebrate their anniversaries. Nowadays, this couldn't be further from the truth! Not with Mumford & Sons, Bob Marley and The Lumineers serving as the soundtrack for our evening. The chef and his staff were laid back and dressed casually and could not have been nicer. The service and presentation was also first rate.

I had dined at Five Crowns once before, but nothing could have prepared me for the Chef's Supper consisting of eight courses that would push my pallet (not to mention my comfort level) to places it had never gone before. 
I'm talking oysters!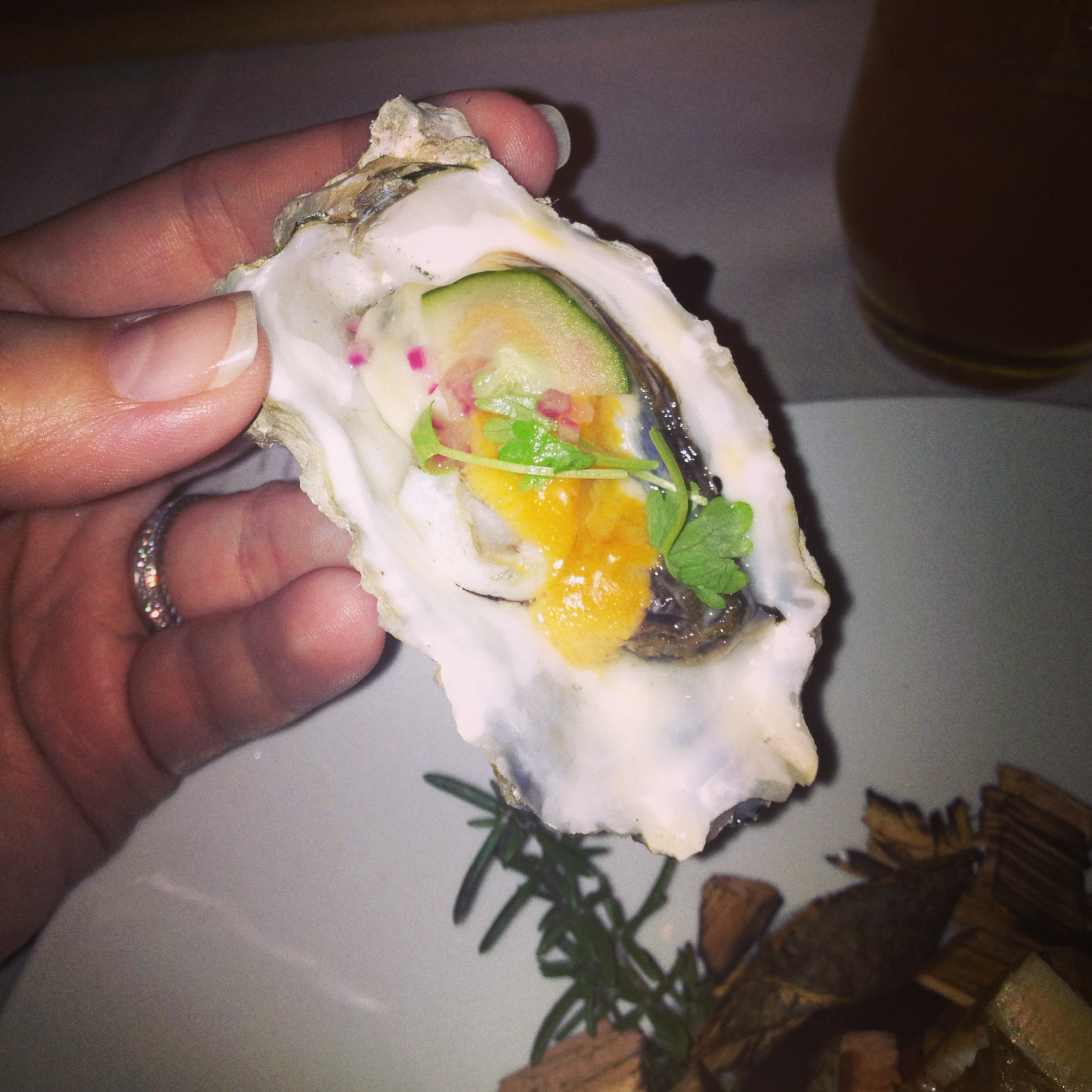 Crystal Point oysters with uni, rice wine and mignonette to be exact. I'm no foodie, so I don't really know what any of those ingredients are, but I told myself before I sat down that I was going to be adventurous and try everything put in front of me. And I am so glad I did. The oysters were good. A little hard to eat and not nearly as "fishy" as I thought they'd be.

Curious about the other amazing foods I never thought I'd try? Smoked bone marrow served with horseradish and shallot rings, accompanied with a Pimm's Cup, a delicious, albeit sweet, gin-based drink, invented in 1823 by James Pimm.
And yes, you read that correctly… bone marrow. One of the more interesting dishes of the night, as it was served a bed of smokey wood pieces.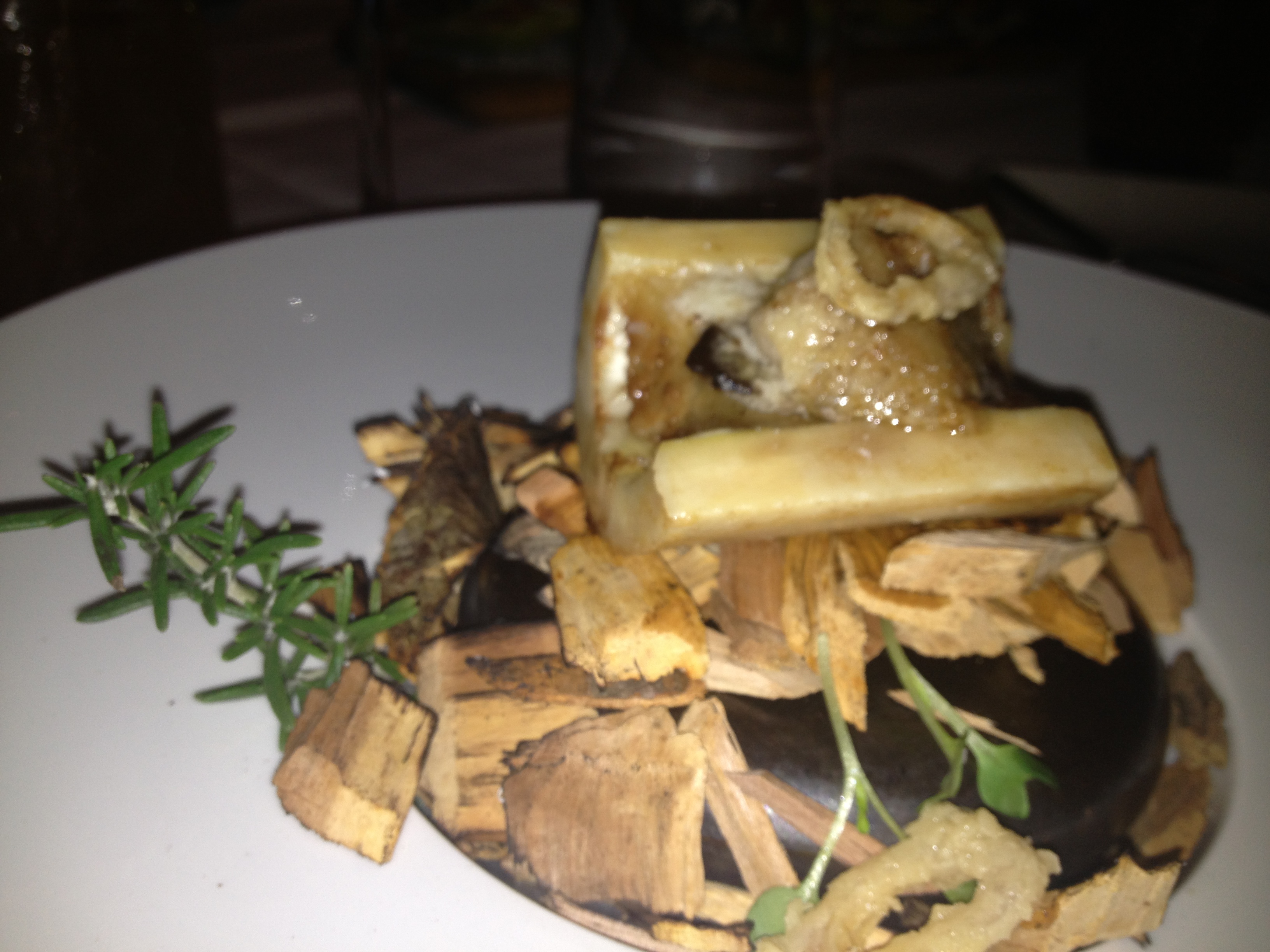 I devoured the next course: dungeness crab squash blossom with carrot puree and sea beans followed by…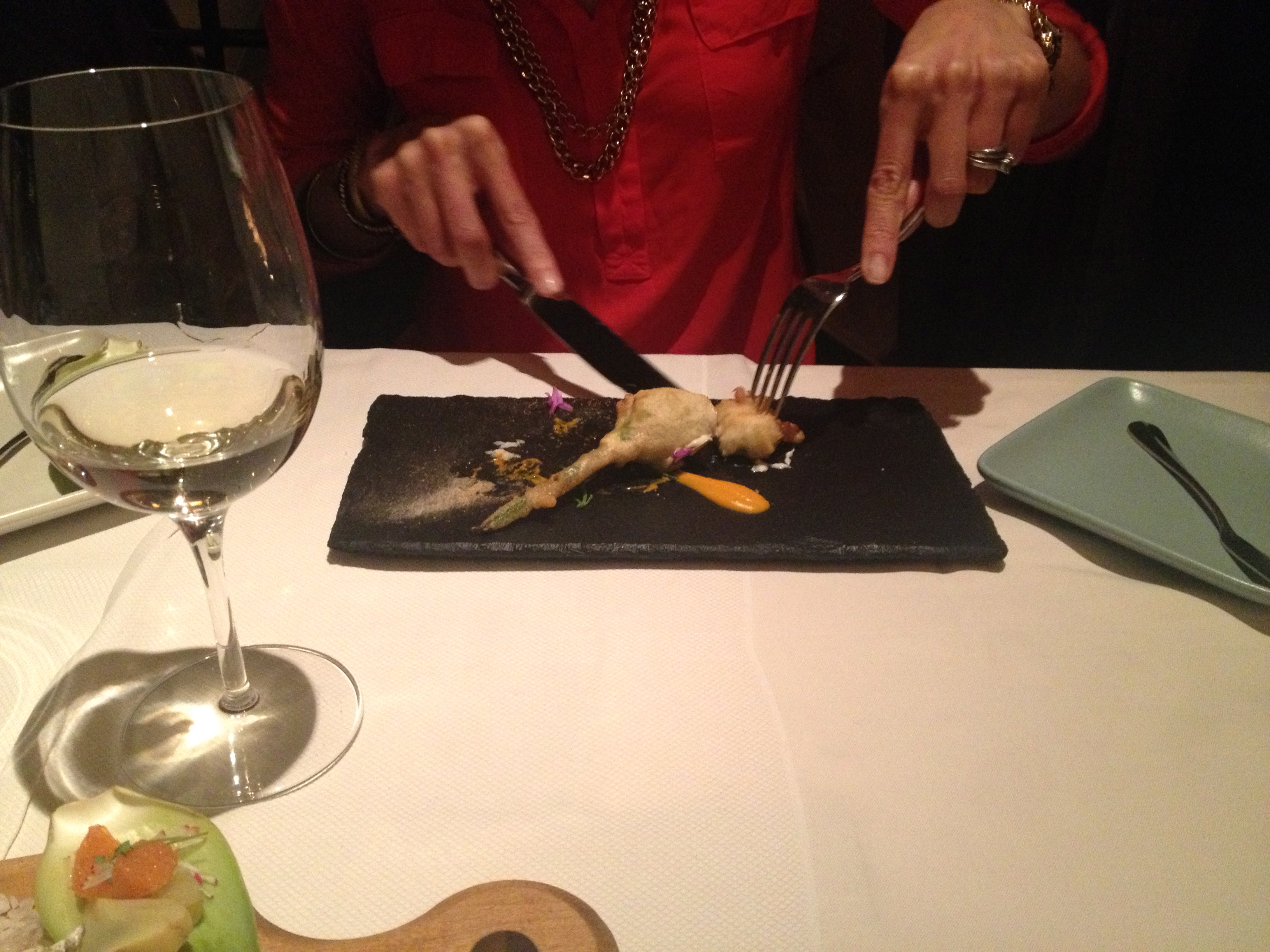 …another first, Jidori chicken liver mousse, brioche, Andante goat cheese and apple butter. In other words, yum, yum, yum!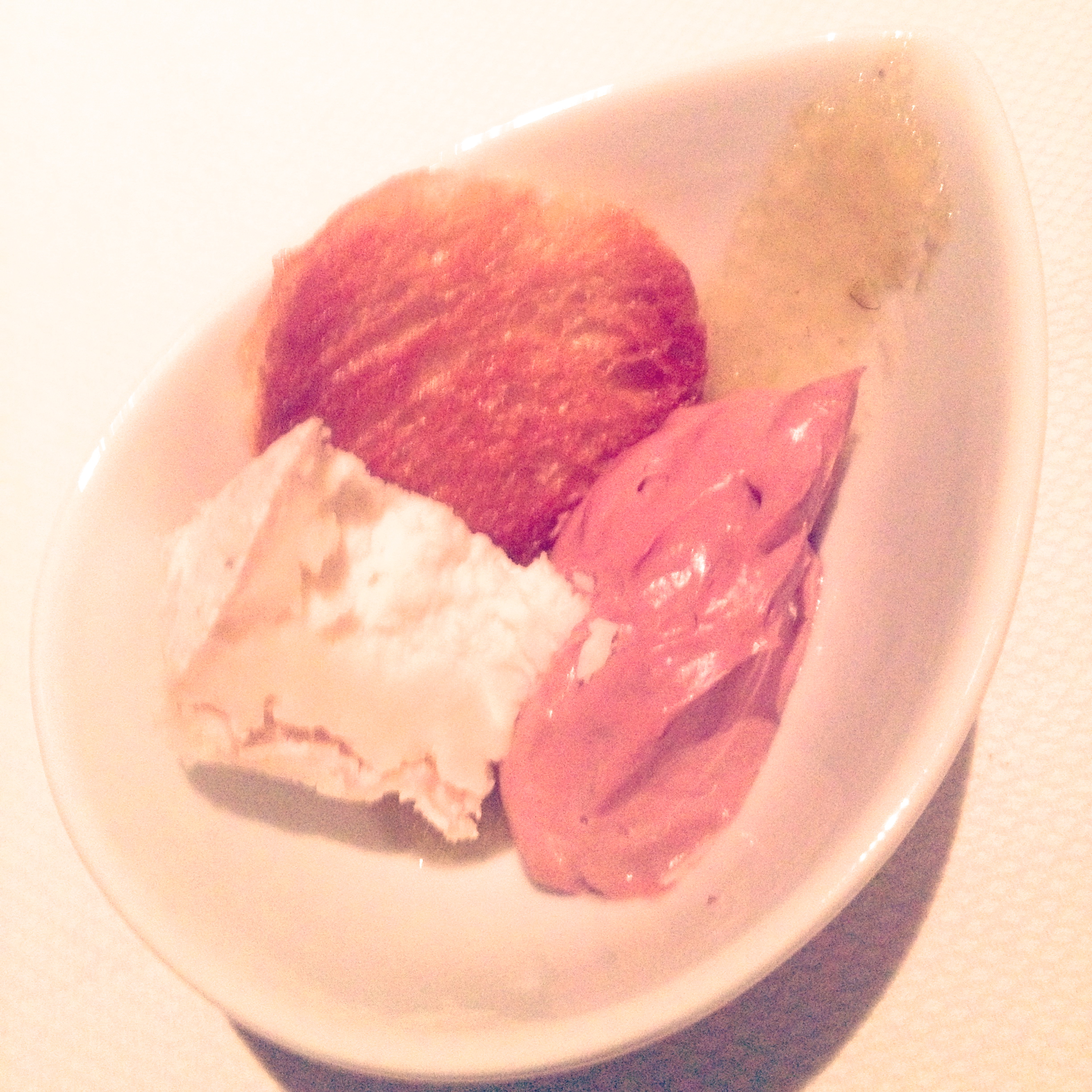 The coup de grâce was the Tomahawk platter: roasted maitake mushroom, salt crusted potatoes, braised kale, onion foam and scallion ash. Served rustic-like on a butcher block. All the flavors were rich and decadent and played so nicely together, especially when washed down with a lovely Salvestrin Estate Cabernet Sauvignon.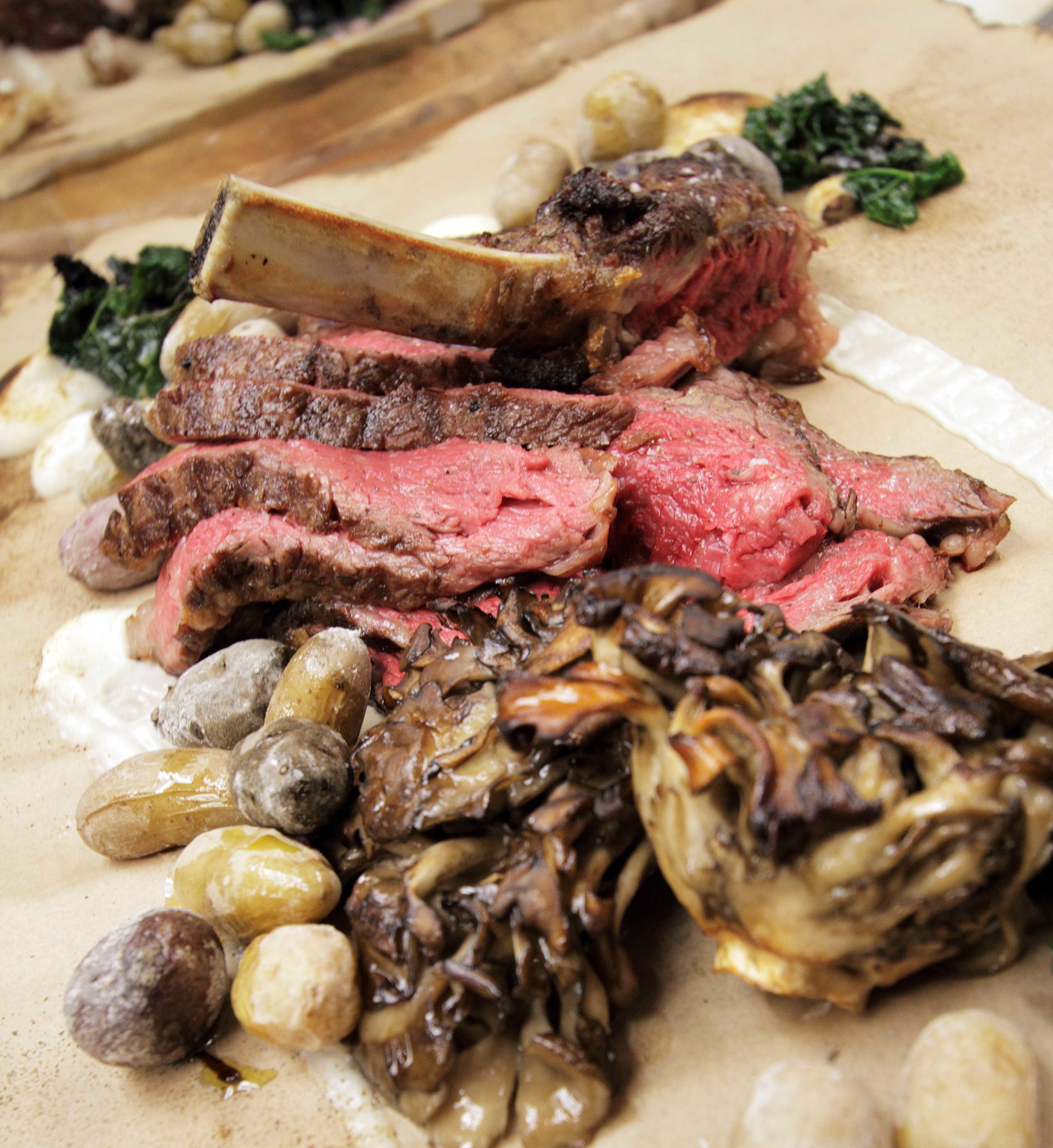 The next dish was my favorite: beet braised pork ribs served with ricotta cavatelli, baby mixed carrots and Vadouvan meringue popcorn. The pork was so tender it melted in my mouth and I loved the fact that it was paired with Thrillseeker IPA. So apropos.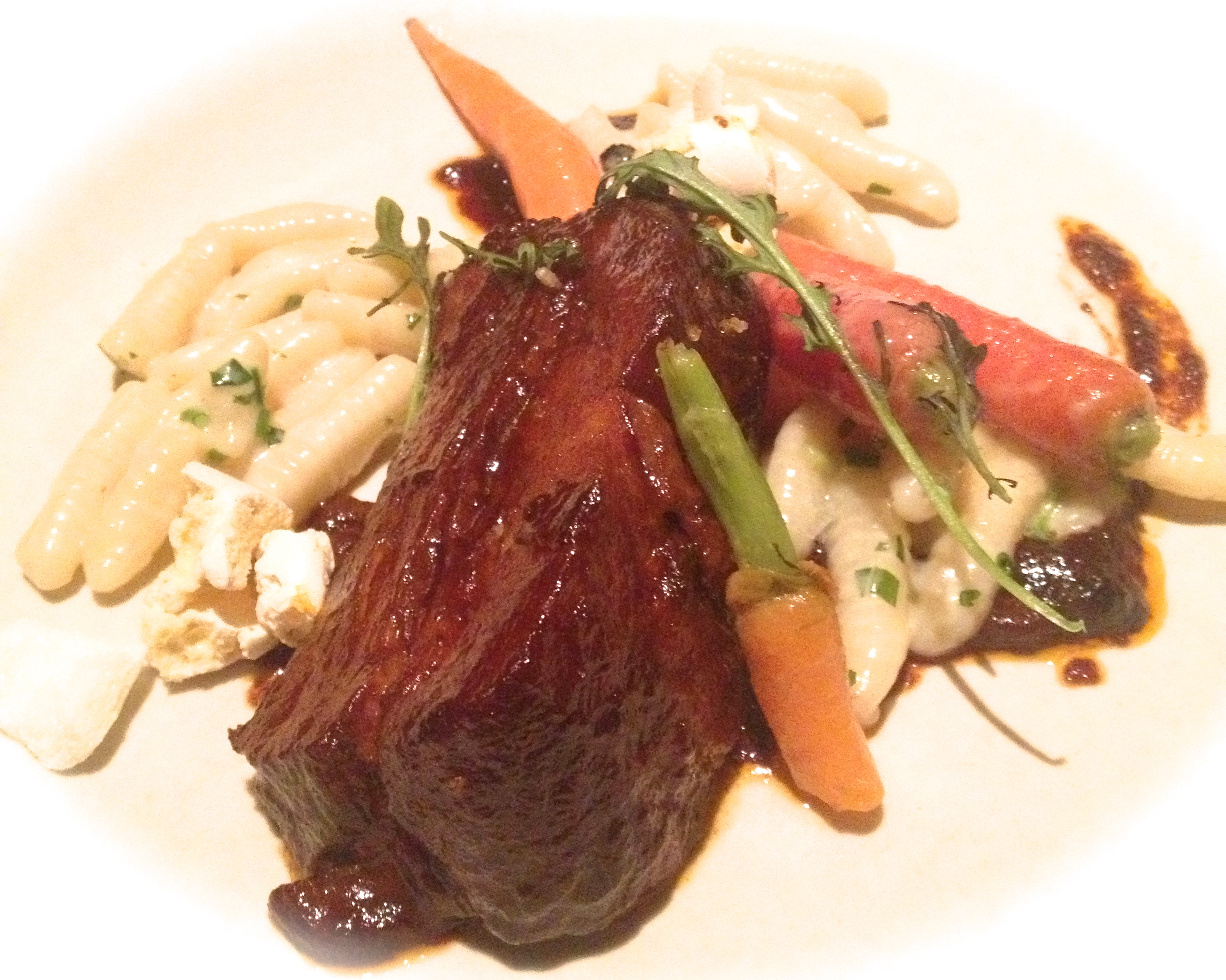 Five Crowns is an institution in Orange County, but it's definitely not your grandparents' restaurant anymore. If you live in the OC and have never been, or haven't been in a while, OR are planning a visit here, I urge you to try it out for yourself and if you're looking for a one-of-a-kind, magical dinning experience, I highly recommend the Chef's Supper!

Five Crowns
3801 E. Coast Highway
Corona del Mar, CA 92625
Phone: (949) 760-0331

On occasion, contributors of The Trend Tribe – including myself – receive products, compensation and/or services gratis or at discounted rates. This practice does not influence the contributor's point of view or the outcome of the review. All descriptions are factual and accurately reflect the reviewer's experience. The opinions are of their own.

Related Posts: