Lizz of Am I a Funny Girl? is my guest today and she is a very proud mama to her son, Max.
Her letter to Max makes my heart swell and serves as a beautiful reminder that our children are precious gifts and we should feel so blessed to have them and be the ones that get to raise them.

Thank you, Lizz for choosing my space to share your loving words.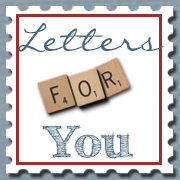 Dear Max,
I love you the most, you know that right?
You make me so proud to be your mommy, so often, I could just explode.
You are funny and smart and I know that you'll be an amazing catch for someone someday. My goal as your mom is to make you into the very best man you can possibly be. A man like your Daddy, who is loving and handy. A man like Grandpa who is practically a super genius, but has never lost touch with his creative side, with his painter-photographer self. A man like Papa, who is always on the lookout for a cool new hobby, and isn't afraid to take risks in order to get the really great rewards.
Your Great-Grampy was an awesome guy, too, and so much like Daddy. Besides having his name as your middle, he was handy and loved baseball and he was Nana's own Daddy and he would have loved you so, so much. I'm sad you never got to meet him, but I'm sure he's keeping an eye on you every day from Heaven.
You're turning 5 soon, and getting so big! Comparing you now to when you were born is an overwhelming task; comparing that teeny tiny boy in the isolette to the rambunctious kid dancing in my living room makes my heart swell.
You've learned so much: Counting and reading, talking and singing. How to tell a knock knock joke, how to use a toot to the maximum comedic effect. How to use a fork, how to build the best train tracks ever. You know how to play Angry Birds and climb to the top of the slide by yourself. You can identify every animal in the zoo and remember things that I have long since forgotten. (Really? You had a giraffe on your cupcake at your 3rd birthday party? I'll have to take your word on it)
As much as you've already learned, there is so much more to teach you! Some things are important, and some of them aren't, but in my goal of making you the very best man you can be, they all add up. How to do laundry, how to write a love letter to win her heart, how to wear the correct amount of cologne (it's less than you think!), how to tie a tie. Properly flipping a fried egg, how to pitch a tent, making the perfect cup of coffee.
Your Daddy and I love teaching you these things, and you love learning them. We go out of our way to show you how to do stuff; the proper way to put away the silverware (Awww, your first chore!) and how to sound out a difficult word in a story.
I try so hard to set a good example. Can I tell you a secret? I don't really like some of the food we eat either, but I try it anyway, because you never know! I know you don't like a lot of stuff; bell peppers, avocados, mustard and minty things come to mind. But you have to keep trying! Did you know I used to not like salami? Crazy, right? You just have to try things. I hope you see my willingness to try and keep that in your heart.
But what about the stuff we aren't teaching on purpose? Kiddo, that's the stuff that I worry about the most. Do you see how much Daddy and I love each other? There's no such thing as too many hugs or kisses. How I always love Auntie Katie, even when she drives me bonkers? I call and talk to Nana every day, even if just to say hi and talk about what we're having for dinner. We're family, and it's what we do! Daddy takes great care of me when I'm sick… are you noticing that? We love to laugh together, and I hope it's something you keep with you.
This learning doesn't end, sweet boy. Every day is a chance to learn something new.
Today, I learned that I actually do like 'Beef Pad See You' for lunch, because I took a chance and tried it!
Every day is an opportunity to learn, if you go out and grab it!
I love you to the moon and back,
Mommy
Follow Lizz on Facebook, Twitter, and Pinterest.
The song Something You Learn by Lori Henriques inspired this post, if you care to take a listen:
Related Posts: