I've been at this blogging thing for over four years, sharing the ups and downs of my life and opinions about things, working through the crazy thoughts that go on inside my head, asking for advice and getting to know some you very well and I've come to learn a few things about myself and being a blogger….
And it occurred to me that there is no such thing as blogging. There is no such thing as a blogger. Blogging is just writing — writing using a particularly efficient type of publishing technology. – Simon Dumenco
Your best ideas come to you while you're in the shower.
Every situation, conversation, event, book, movie and recipe should be considered blog post material or the launch pad for blog post material.
You have sat in your car (with it running) for over an hour "writing" a blog post on your smart phone.
I believe the term "blog" means more than an online journal. I believe a blog is a conversation. People go to blogs to read AND write, not just consume. – Michael Arrington

You get twitchy when you haven't posted anything in over a week.
You know it's a good post when you are scared as hell to hit publish.
The posts you feel the best about, agonize the most over, edit and re-edit will warrant the fewest readers/comments/shares.
The posts you threw together in under half an hour will end up being your most popular.
The bottom line is that blogging is like sex. You can't fake it. You can't fake passion. You can't fake wanting to engage with the public. If you do, it will ultimately be an unsatisfying experience for both the blogger and their readers. – Kevin Anderson
Some of your closet friends you've never actually met in real life.
Most of your family and friends keep up on your life via your blog, yet would never admit it. Creepers. 
The search terms that bring people to your blog can make you laugh out loud or make you want to take a shower.
You have had at least one argument with your significant other about the amount of time you spend blogging and/or something you've shared on your blog.
A blog is a personal diary. A daily pulpit. A collaborative space. A political soapbox. A breaking-news outlet. A collection of links. Your own private thoughts. Memos to the world. – Unknown
Negative comments still hurt your feelings, no mater how thick you think your skin is or how long you've been blogging.
Kind comments and having people agree, support or share a similar experience with you feel like bear hugs, assure you that you are not alone and validate your feelings like nothing else in the world.

Having no Internet connection or Wi-Fi can bring you to tears.
You know the anguish of not backing up.
A blog is what all websites want to be; updated on a regular basis, containing content that is of interest to a select or target audience and is easy to update and change  – Unknown
You constantly wish you had more time to write posts for your own blog and read other posts by friends.
You get headaches from staring at screens for too long.

You will take 30 photos for just one good blog worthy shot.
Family and friends have asked you nervously,"You're not going to blog about this, are you?".


Blogging is not rocket science, it's about being yourself, and putting what you have into it. – Unknown

How do YOU know you're a blogger?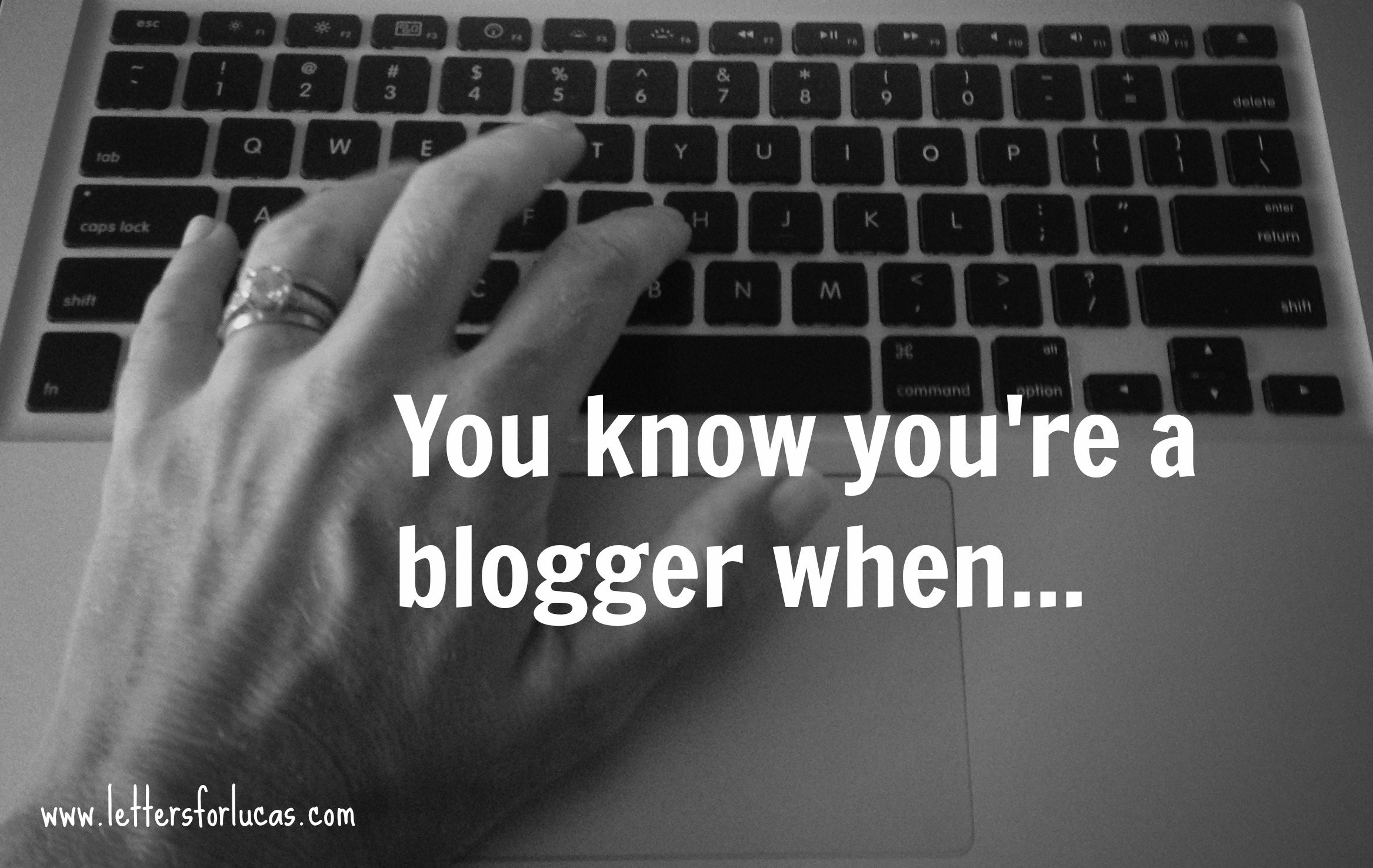 Related Posts: