Lucas goes through phases when all he wants to talk about are planets or dinosaurs, pirates or sea life, Legos and most recently learning and belting out every last word of the Frozen soundtrack, but every now and then he gets a true obsession for something and it becomes all consuming.
The first and thankfully shortest lived obsession was with Elmo. Now he won't give Sesame Street the time of day. While there was no annoying red squeaky voiced monster when I was growing up, I loved watching Sesame Street and the Muppets and learned a lot from those shows, but there far too many [better] options nowadays.
Next came his Thomas the Tank Engine & Friends obsession. We have tracks of all shapes and sizes and dozens of trains, we memorized the theme song, spent a Day Out With Thomas and have logged countless hours around the train table.
Still going strong is his passion for Cars and Cars 2. Lucas has at least 100 die cast cars from the movies and has expanded his collection to include Microdrifters, Squinkies and Mighty Beans. He owns half a dozen track sets and loves lining up cars by color, gender, bad guy vs. good guy, first movie vs. second, World Grand Prix racers, Radiator Springs friends, etc., etc. It's exhausting but a passion that both my husband and I encourage and enthusiastically contribute to.

Lucas's dad sells cars for a living so I'm sure he'll always have a love for them too, he even talks about being a race car driver when he grows up (God help me and my poor heart if in fact that happens). One of my favorite things he has ever said is, "I wish Lightening McQueen and Tow Mater were real so they could teach me how to be a race car driver".
Lucas's latest obsession is with Angry Birds and more specifically, Star Wars Angry Birds. This started with the original app/game, which I still refuse to play or download on my phone but his dad has. It soon became a favorite and then graduated to more apps/games, books, light sabers, stuffed animals, underwear, Telepods, dishes, Angry Bird GO! carts, Star Wars Angry Birds Jenga game sets and to date as a family, we have watched four of the six Star Wars movies [SIDE NOTE: can you believe the first Star Wars movie came out in 1977??] and are constantly being quizzed about all the characters, their strengths and weaknesses, weapons of choice, home planets, alliances, etc. We don't leave the house without his Star Wars Angry Birds Character Encyclopedia.
Recently Lucas lost one of his tiny Telepods (C3P-YOLK) in the car and days after Todd tore the thing apart trying to find it, it rolled out from underneath the passenger seat. Look how happy he was to be reunited. Notice the shirt.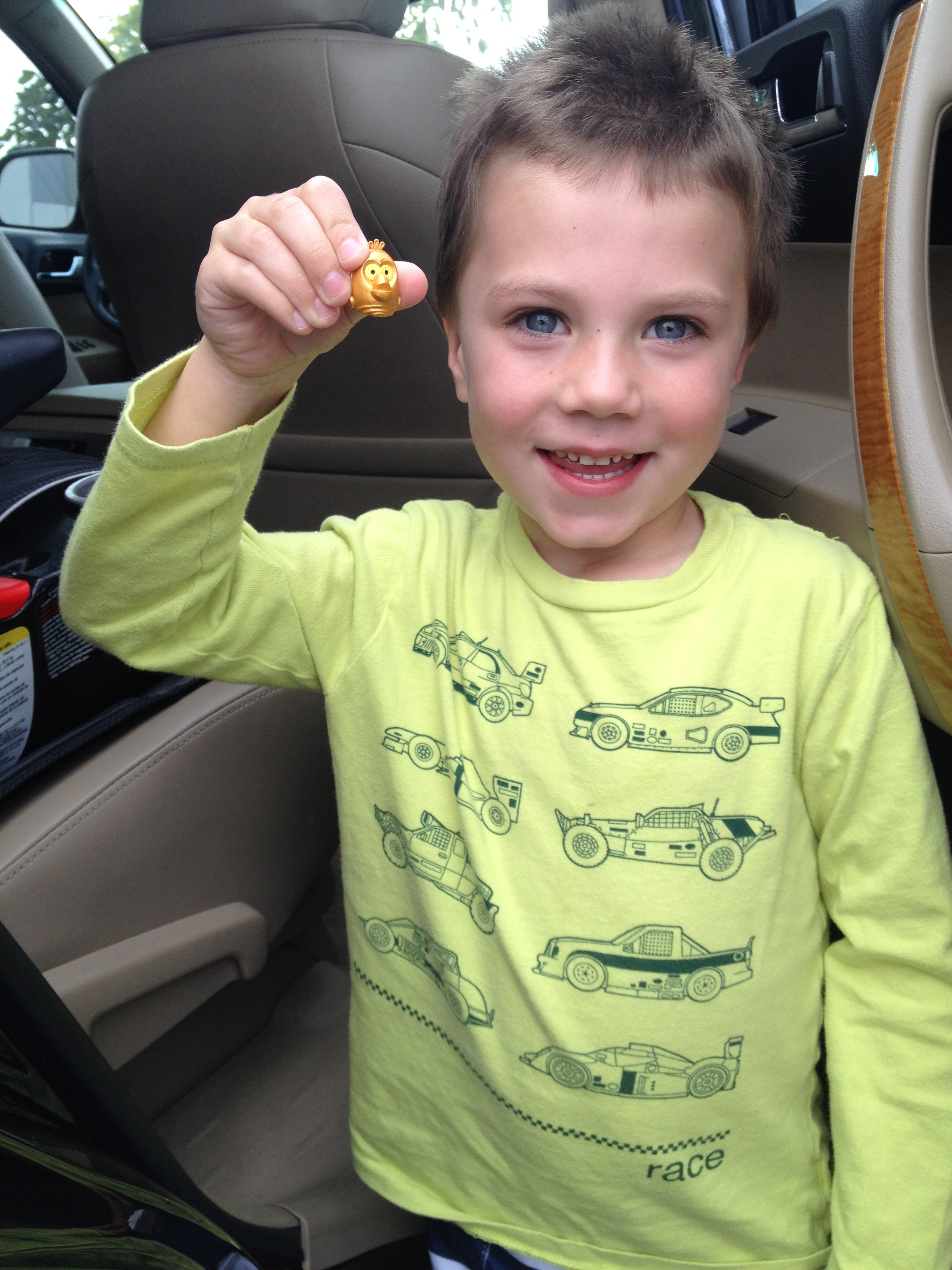 This current passion is cute, but exhausting. I suppose real strategy and vivid imagination are being used to play these games and act out different scenarios, so he's benefiting in that way and I'm quite sure another obsession is waiting lurking just around the corner…

What is your child's current obsession?
Related Posts: