You know you're a mom when on the rare occasion you go out of town, monumental things will happen at home.
Okay, so that's a little dramatic, but Lola did officially start crawling over the weekend I was in San Jose at BlogHer 2014 (I'll share a recap post on the conference in a few days).
And Todd sent me this photo of Lucas's first loose tooth!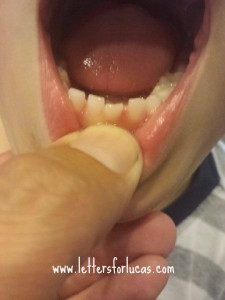 So exciting.

I had visions of going to the bank for crisp $2 bills, carefully painting the bills with glitter glue and downloading a template for Tooth Fairy stationary. A visit from the Tooth Fairy is very special, especially when it's your first one.
I was reassured by my fellow mom friends that it takes a few days for a loose tooth to come out so I wasn't too worried about it coming out while I was away.

Well, it happened last night! After a long day at Super Hero summer camp, karate lessons and a fun dinner out with friends, it was very late when we got home, way after bedtime late.
Lucas had been saying in the car that is tooth felt "looser" so he rushed to show his dad as soon as we walked through the door. Todd only had to wiggle the tooth slightly and after four days of being loose, it came out!
Why does everything happen at bedtime?
While Todd bathed and fed Lola, Lucas and I wrote a letter to the Tooth Fairy, I snapped a couple of terrible photos and then read him two books because even though it was well after his bedtime, he can't go to bed without a story. I was trying to keep calm and not think about all the rushing around I would soon be engaging.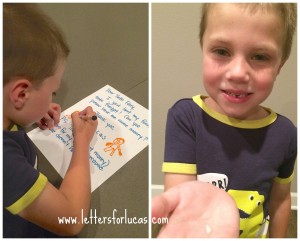 Once Lucas was safely asleep, I was scouring Pinterest for ideas, drafting a letter from the Tooth Fairy, asking about the going rate for baby teeth on Twitter, dragging out the printer, painting a $10 bill with glitter, drying it with a hairdryer and destroying any evidence. All at 11:00 at night.
Oy, the lengths we go to, right?
Neither of us had a $5 bill and Todd actually offered to go out and make change but we decided that was where we draw the line.  
My advice to parents of new five-year-olds about to lose teeth, get your shit together early. You can thank me later!

Related Posts: