I am in no way, shape or form a girly girl, which according to Wikipedia is defined as:
"…a slang term for a girl or woman who chooses to dress and behave in an especially feminine style, such as wearing pink, using make-up, using perfume, dressing in skirts, dresses and blouses, and talking about relationships and other activities which are associated with the traditional gender role of a girl."
I'm not into ribbons and bows, lace or frilly flowery things.
I don't wear a lot of makeup, if any, absolutely no sparkly stuff and you can typically find my hair pulled back in a ponytail under a baseball cap.
There are way more pairs of jeans and sneakers in my closet than dresses, blouses or heels. In fact, I look like the Jolly Green Giant whenever I try to walk in heels. Seriously, there should be a class.

I don't like to shop, hate gossip, except of the celebrity variety and don't know the current "in" princesses, although you'd have to be living under a rock not to have heard about Elsa and Anna.

And I hate the color pink!
It's funny though, when Lucas was born I grew so tired of blue, my favorite color that very much out of character bought a hot pink wallet and then later purse to match.
Feeling engulfed by boys (just the two… my husband and son) I started to get comfortable with my feminine side. I began to enjoy getting dressed up in heels and dresses for date nights and dinner with my girlfriends and asked a friend more than once to help me apply my makeup.
Before the ultrasound tech could confirm I was having a boy with Lucas I knew and the same thing happened with Lola. I just felt she was a girl. I have always dreaded the possibility of having a daughter, which deserves to be the subject of its own post, but one main reason is because I still feel so out of touch with girly things.
And let's face it, too much pink can be sickening!I refuse to buy Lola pink anything, but I still seem to be surrounded by the hue.

So while I'm not looking forward to braiding hair, pretend spa in my living room, cleaning up piles of glitter or the sheer drama that comes with being a female, I am s l o w l y embracing pink and hoping that Lola finds her own style as she grows, just so long as it isn't to girly girl.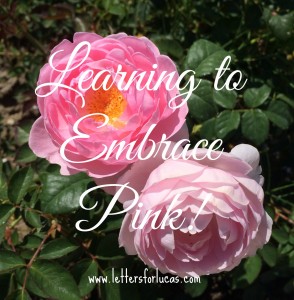 Related Posts: