I have so much I want to share… my mother/son trip to Chicago, Lucas's first day of Kindergarten and his "goals" for the school year, my feelings about Lola growing up too fast, trying to savor the small moments of her babyhood and coming to grips with the fact that she will most likely be my last baby, my favorite Dave Matthews Band lyrics (a project I have been working on in PicMonkey for weeks!), gun play, transgender issues that have me in tears, and an incredible book that I read in two days and touched me in more ways than I never expected, Rare Bird by my friend Anna Whiston Donaldson but, while my head is full and drafts are started but sit unfinished and I grow increasingly depressed by how I can't seem to find the time to write, I recently discovered something that has literally changed my [social media] life.
I used to take screen shots of Facebook posts that I wanted to come back to later and read and/or share but many times never did which resulted in hundreds of photos on my phone with unworkable links. I'm stubborn about deleting them and delusional that I'll ever find the time to read them.

I don't know how I discovered it, but I'm thrilled that I did… Did you know that you can save things you find on Facebook to read later with a nifty Save feature? It's super easy and for all the bitching everyone does about Facebook, they have created a pretty cool site.

On every Facebook post that contains a link, there is a a small gray carat which leads to a drop down menu, click it and scroll down to Save "TITLE OF POST". Easy right?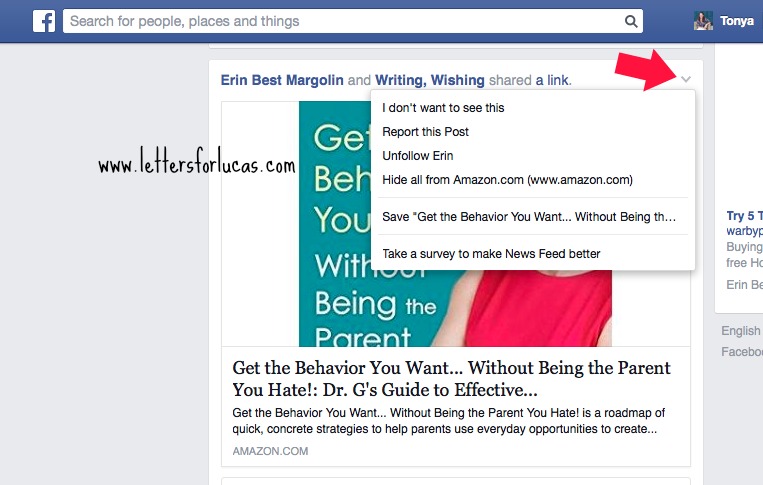 But where do they go?
Check out one of the menu options on your Feed Page/Favorites: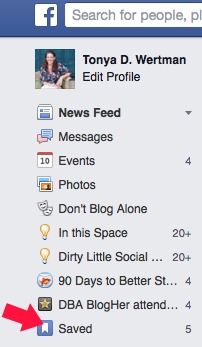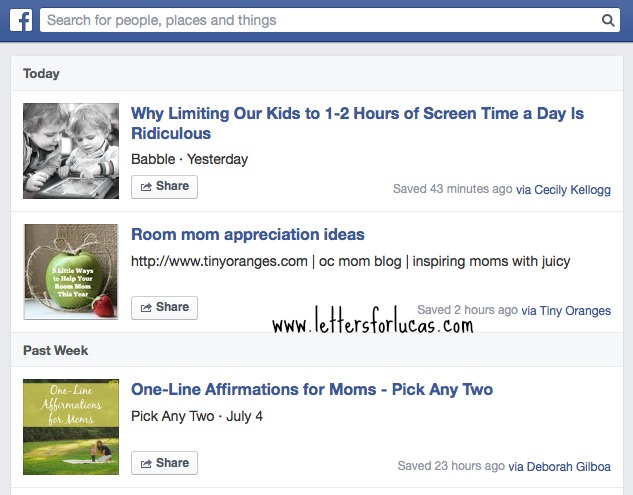 Happy saving and you're welcome!

Related Posts: