At least six months ago we started talking about our Thanksgiving plans. Typically we take a big trip. A week long somewhere far from home, somewhere that requires jackets and gloves, hats and boots and reservations for our Thanksgiving meal.
Lucas spent his first Thanksgiving in Florence, Italy! Two years ago we went to Vancouver.
Last year we moved the week of Thanksgiving so this year felt like a "make-up" of sorts. We renewed Lucas's passport, applied for one for Lola and started daydreaming.
I don't if we got too busy or couldn't quite agree on a destination, but we dragged our feet until the week before and then with what felt like out of our budget and limited options we decided to stay local-ish. We drove to San Francsico!
Todd grew up and went to college in the Bay Area and knows the city well  and I fell in love with San Francisco on my first visit some 18 years ago and it continues to dazzle us both.
We had no agenda and had the greatest time. Wednesday was my favorite day; we left our hotel at 10:00 AM, headed for Ghirardelli Square. Along the way we stopped to play at two parks, wandered through Chinatown, window shopped, found a darling card and gift store called Lola, where we had to pose for photos, watched Lucas & Lola devour a croissant, found a man and his son catching and releasing Dungeness crabs, gazed at the beautiful Golden Gate Bridge, enjoyed ice cream and took a sunset cable car ride back to our hotel nearly seven hours later.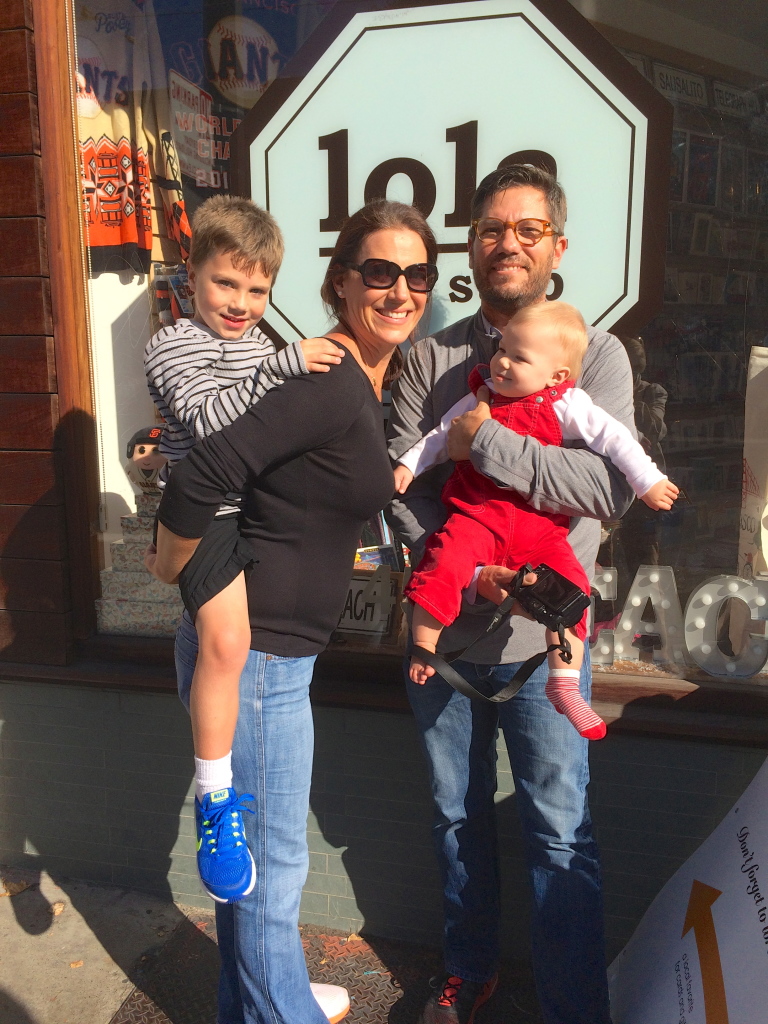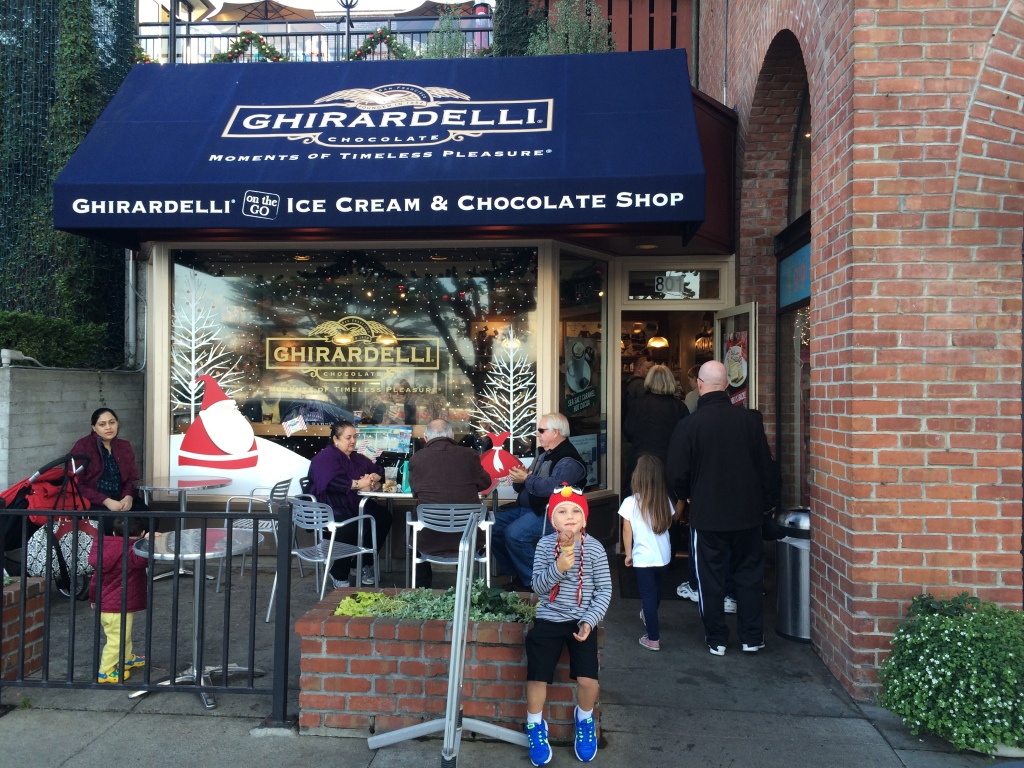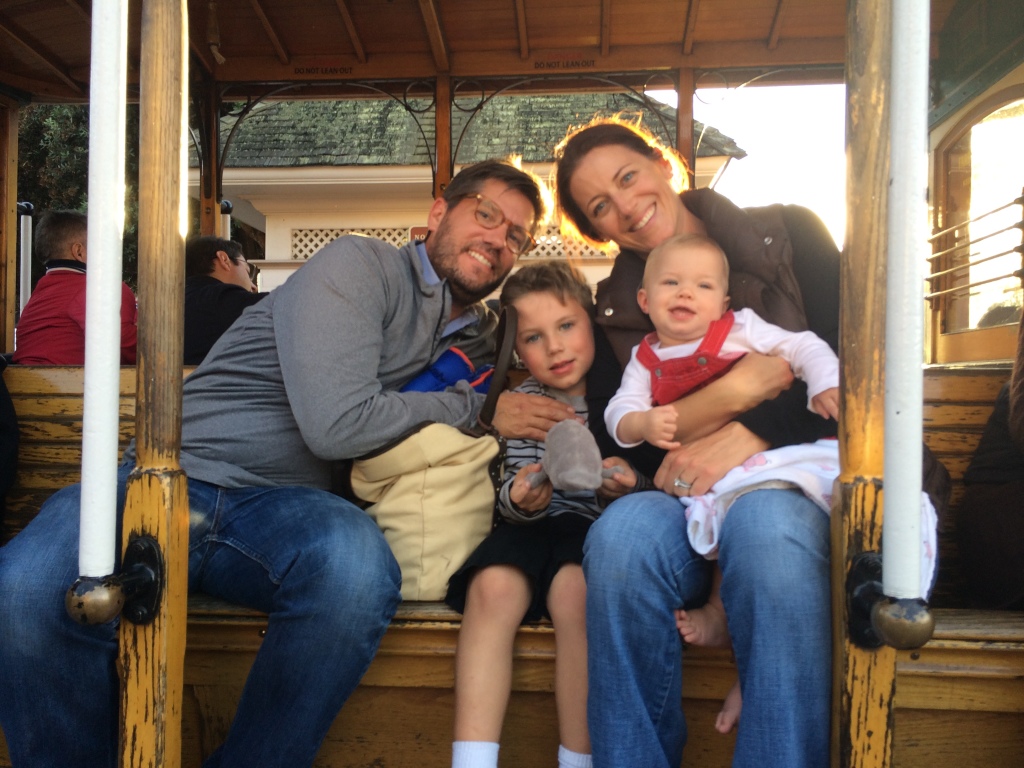 But then again, Thursday was pretty spectacular too! I took Lucas ice skating for the first time at Union Square and he was amazing. My sister-in-law and two nieces, who live in the East Bay joined us. Apprehensive at first myself, as I hadn't been on skates in a very long time, I was most worried about Lucas. He fell a lot but he was so determined and never once whined or utter the words, "I can't do it.". I am so proud of him and he, of course can't wait to do it again! We both had permagrins for the 90 minutes we were on the ice and as long as we stopped to say hello before circling the rink again, Lola and Daddy enjoyed watching us from the sidelines.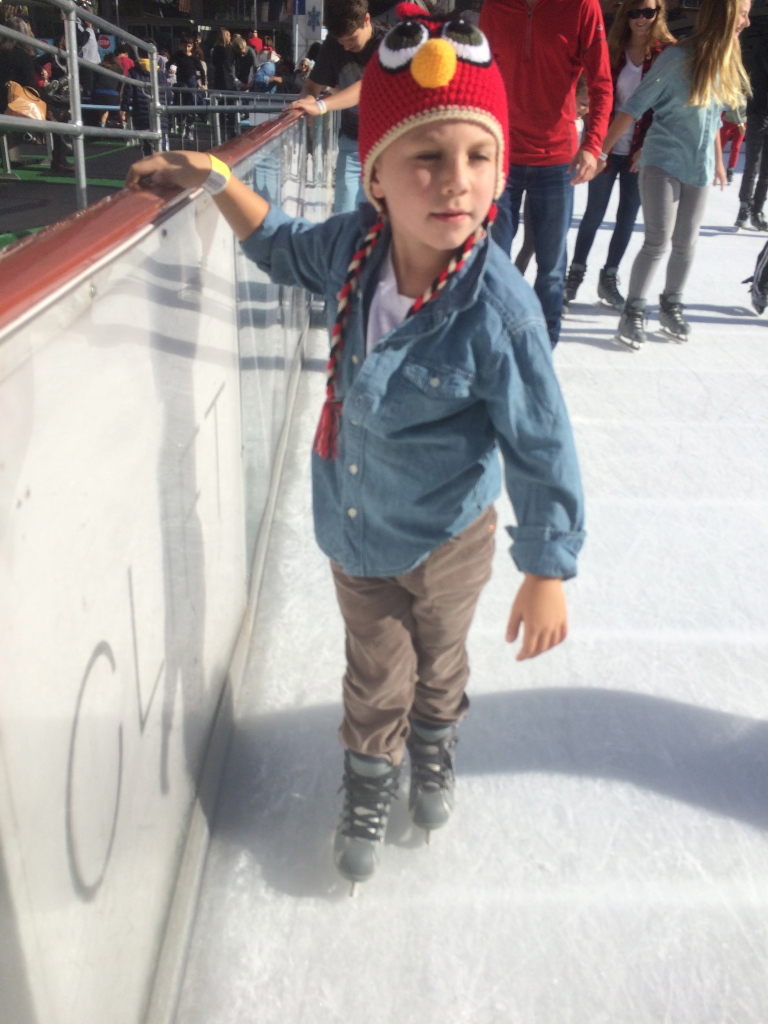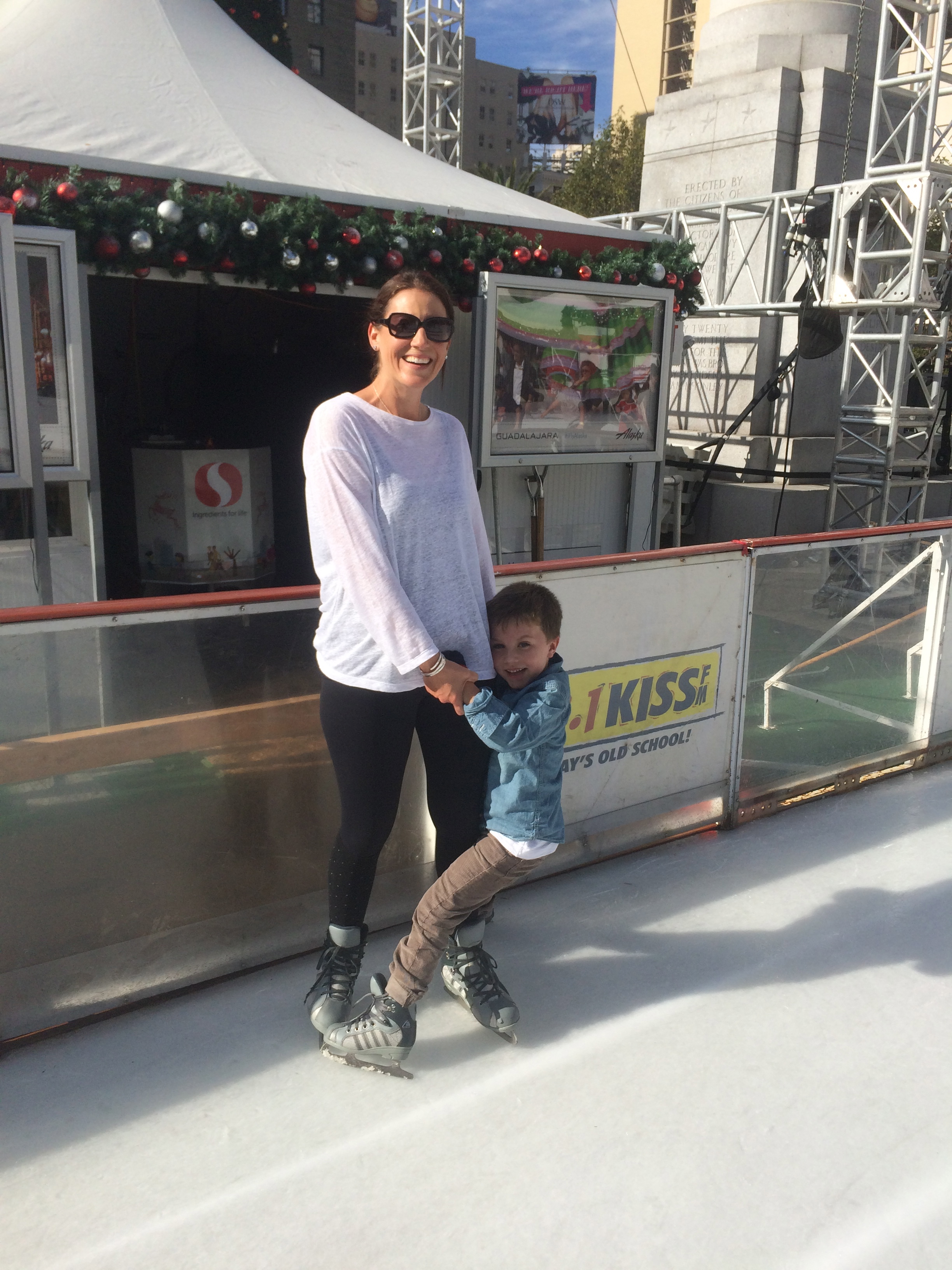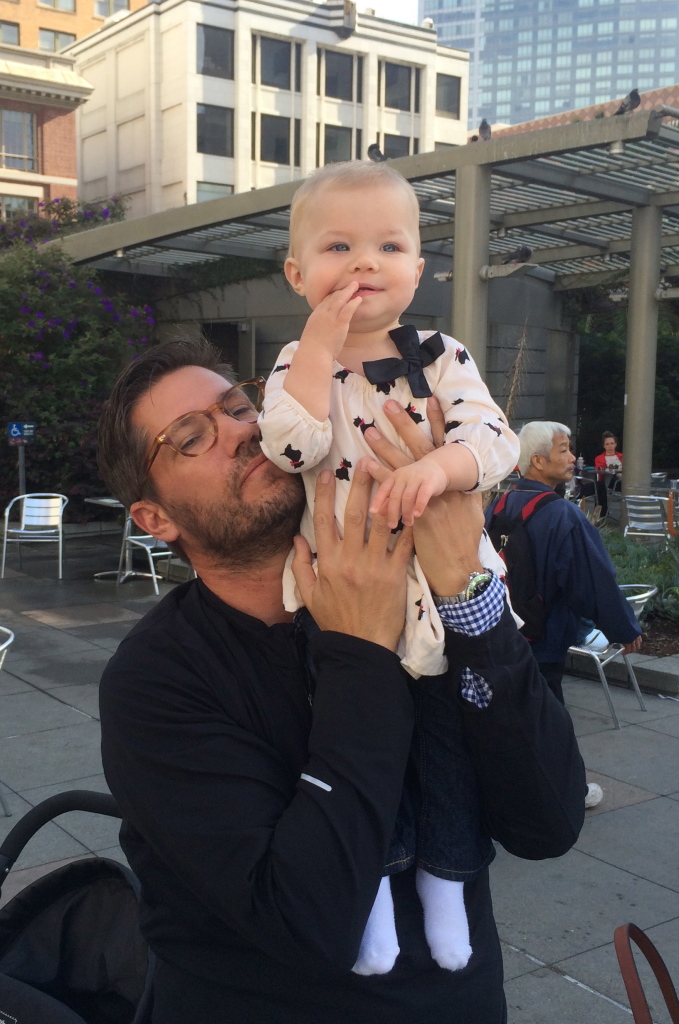 Friday, we walked half-way across the Golden Gate Bridge, as little legs couldn't make it the entire (1.7 miles one way) way and there were no parks or croissants along the route. After that, my in-laws, who also live in the East Bay came into the city for lunch and we watched the Christmas decorations go up in our hotel lobby.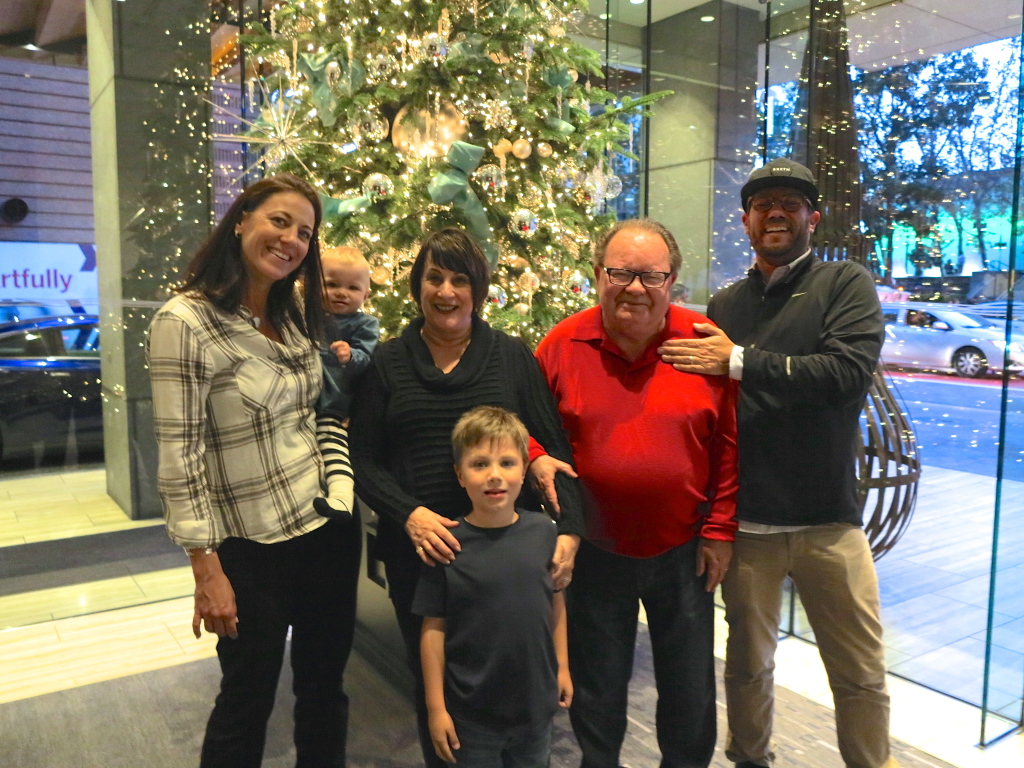 There was more exploring, a shopping spree at NikeTown, some not so great restaurant recommendations and I'll spare you the details and frustrations of our horrific road trip there and home with a certain rear-facing little person who hates being in the car.
It was wonderful to get away, especially to a favorite city and as a family. I hope you and yours had a lovely holiday too.

Related Posts: