Update: The winner of the $300 Amazon gift card is Amy Pike. Second and third place go to Renee and Julie.
Here's my then and now.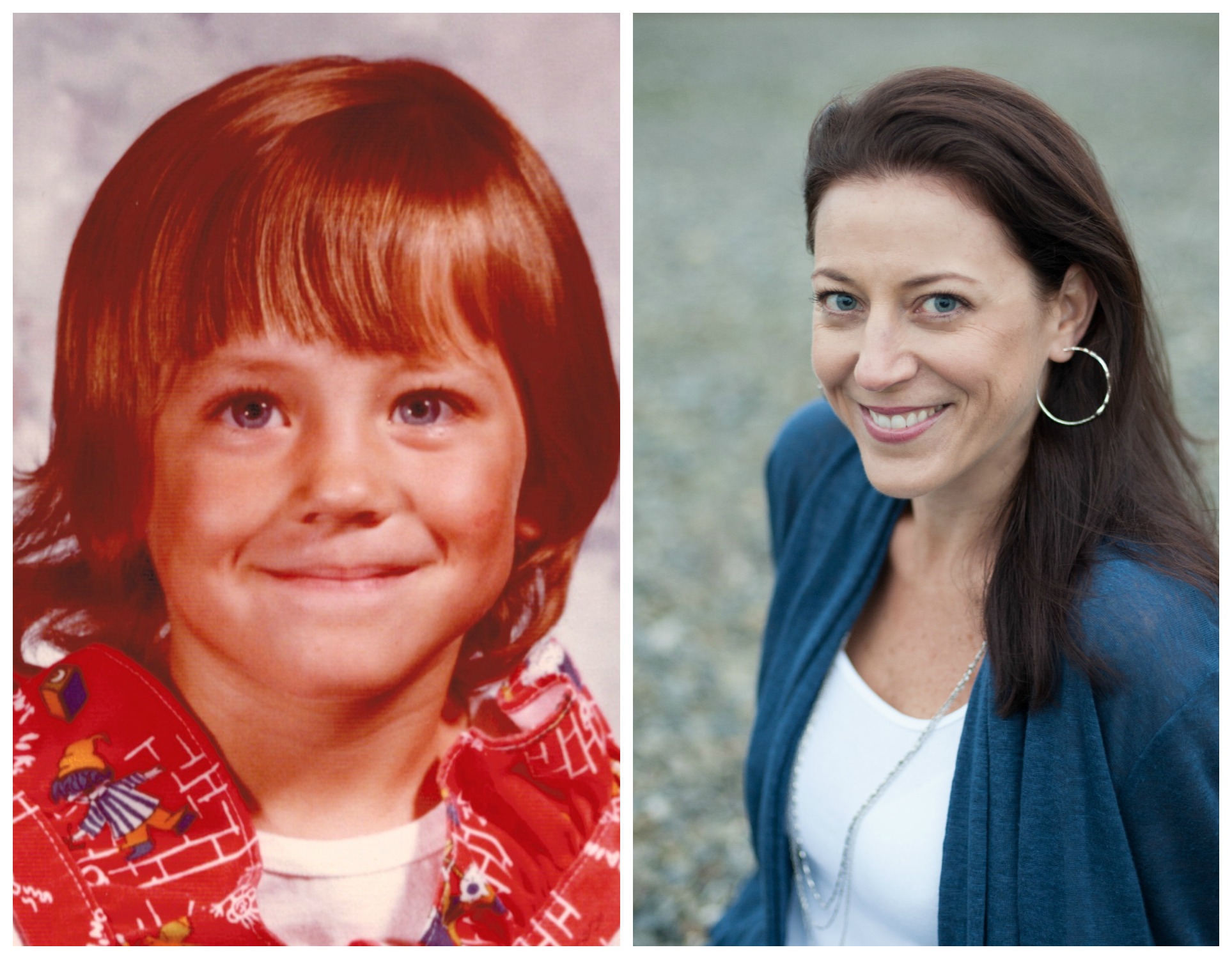 To see the answers for everyone else, look below.

I remember 5 things about kindergarten:
1. Riding the bus and one terrifying time I didn't get off at my stop. A police escort may have been involved.
2. Stapling my finger with my teacher, Miss Mills' red stapler.
3. Naps (glorious naps!) on army cots and the puddles of drool my classmates and I would leave behind.

4. Drawing a picture of my family of four, when there were only three of us. There was a parent/teacher conference and many discussion about lying and my desire to have a little sister.

5. The time I told the lunch monitors that I was allergic to bananas, they made me eat one anyway and I threw up all of her and myself. It also happened to be Picture Day.

I also remember tasting Elmer's glue (c'mon, you know you did it too!), the smell of Crayola crayons and the squishy delight of finger paint. I loved kindergarten, but man, did I have a dreadful haircut!
A bunch of blogger friends and I have been reminiscing about kindergarten and put together something fun for our readers!
We present to you: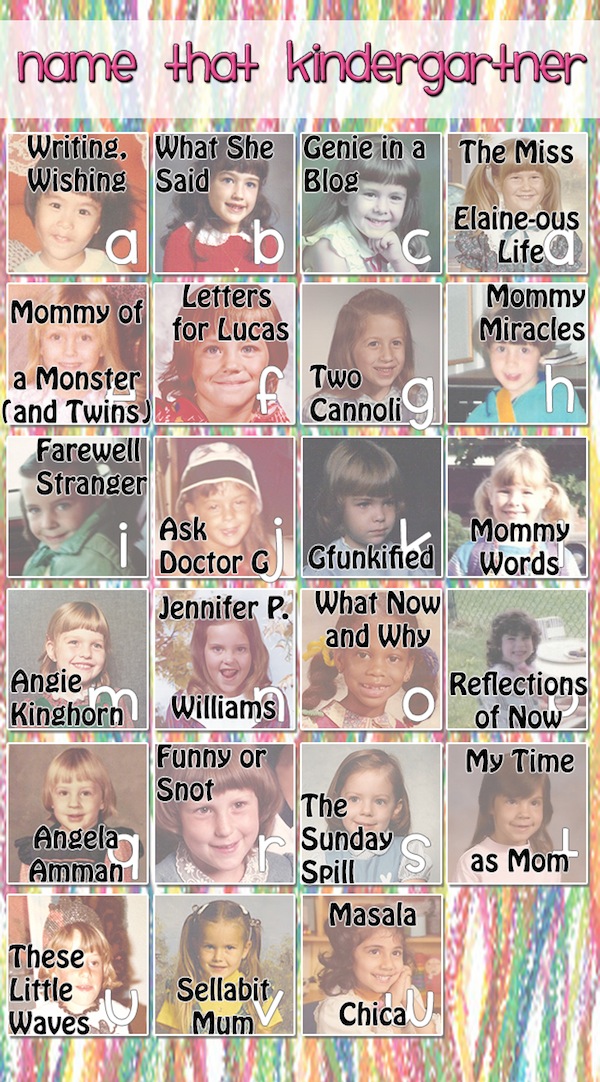 We hope you'll play along! It's very simple – just match the picture (with the assigned alphabet) to the blogger whose blog is listed below.
What's in it for you? You could win an awesome $300 Amazon gift card!!* You can also get to know some of the bloggers listed here, if you don't already. Plus, you get to  have a laugh at our expenses. Don't worry, we did. Now, go forth and play!
Enter your answers on this form.
The 23 participating bloggers, in alphabetical order:
Angela of Angela Amman
Angie of Angie Kinghorn
Deborah of Ask Doctor G
Robin of Farewell Stranger
Poppy of Funny or Snot
Leigh Ann of Genie in a Blog
Greta of Gfunkified
Jennifer of Jennifer P. Williams
Tonya of Letters for Lucas
Kiran of Masala Chica
Laura of Mommy Miracles
Natalie of Mommy of a Monster (and Twins)
Brittany of Mommy Words
Jessica of My Time as Mom
Kimberly of Reflections of Now
Tracy of Sellabit Mum
Elaine of The Miss Elaine-ous Life
Sarah of The Sunday Spill
Galit of These Little Waves
Kristin of Two Cannoli
Arnebya of What Now and Why
Kristin of What She Said
Alison of Writing, Wishing

*Terms and conditions apply:
You must be 18 years or older to enter. This contest is only open to residents of USA and Canada. This contest is open from March 11 – 15, 2013 (closes at 9:00 pm Eastern). Visit the link above, where you will be able to enter your guess for each blogger pictured. (All information will be kept private.) The person to correctly match all the faces with their blog will win a $300 Amazon gift card. The two other closest guesses will each win one $80 Amazon gift card. If more than one person correctly matches all the faces with their blogs, we will randomly pick a winner via random.org. If no one guesses all the faces correctly, the winner will be the person who made the most correct guesses. This is not a sponsored post. Prizes are paid for out of the participating bloggers' own pockets. You CAN enter more than once! Winners will be announced week of March 18.
"Name That Kindergartner" was inspired by My Blessed Life's "Name That DIY Blogger" contest.
A huge thank you to Laura for designing our game pieces, Robin for making this post a lot easier to compile and Alison for being the awesomeness behind DBA!
Related Posts: