With nearly 100 degree days, it hasn't felt much like Fall in Southern California lately but it sure is fun to think about cooler temperatures, piles of red and gold leaves, holiday baking and my boots; oh how I miss my boots!!
This month Elaine of The Miss Elaine-ous Life and Nancy of Bacardi Mama have paired up to ask questions about this elusive season.
It's too late to add new links, but I started this last week, or the week before so I wanted to share.
What is your favorite Halloween candy?
I'm not gonna lie, I love seeing candy corn hit the shelves, but I wouldn't turn down a Twix, Snickers, Kit Kat or package of M&M's.
What is one of the worst "treats" you ever received in your candy bag?
I don't remember ever getting anything I wasn't thrilled with except for maybe Tootsie rolls. Because yuck!
What was one of your favorite costumes you wore when you were a kid?
I'm a child of the 70's so my mother used to make all my costumes. Those were the days. My favorite was Raggedy Ann and she had a matching costume!
How about your favorite costume as an adult?
My most memorable adult costumes have been; Jasmine from Disney's Aladdin, a sock hop, Princess Leia and this year, a witch. My favorite was Princess Leia, which I wore as a child and again, last year. Lucas was Darth Vader and Lola (her first!) was Yoda.
What scares you most on Halloween? Spiders? Zombies? Axe murderers? Eyeballs in a jar… (or something else)?
Masks. Not to into them at all, paint yourself up with blood and gory makeup, but I need to see your face. Especially your eyes.
So then, what is your favorite scary movie?
I don't like scary movies and can barely even watch American Horror Story, but I love classic suspense films like Rear Window and Rebecca, and more modern ones like Seven, The Usual Suspects, The Departed and Gone Baby Gone.
What is you favorite part of the Thanksgiving meal?
I could so easily make an argument for stuffing. Or mashed potatoes with gravy. Or the rolls, hot and buttery rolls. But I think it's the main attraction that I look forward to the most, the turkey. And I love turkey sandwiches for days afterward. A little salt, a little pepper and butter. Yum!
What is your favorite piece of clothing or accessory to wear in the Fall?
Boots, sweaters, henleys, flannels, corduroy, scarves! Did I mention boots?
What is your favorite pie?  If you do not like pie I will forgive you but then what is your favorite Fall dessert?
I'm not really a pie person (sorry, Elaine!) I've been told I make tasty pumpkin and pecan pies, which I do every holiday. Pumpkin because it would be sacrilegious not to and pecan for my sister. For me, I make chocolate. As in good old fashioned Jell-O pudding on the stove chocolate pudding pie. It makes for a great breakfast too!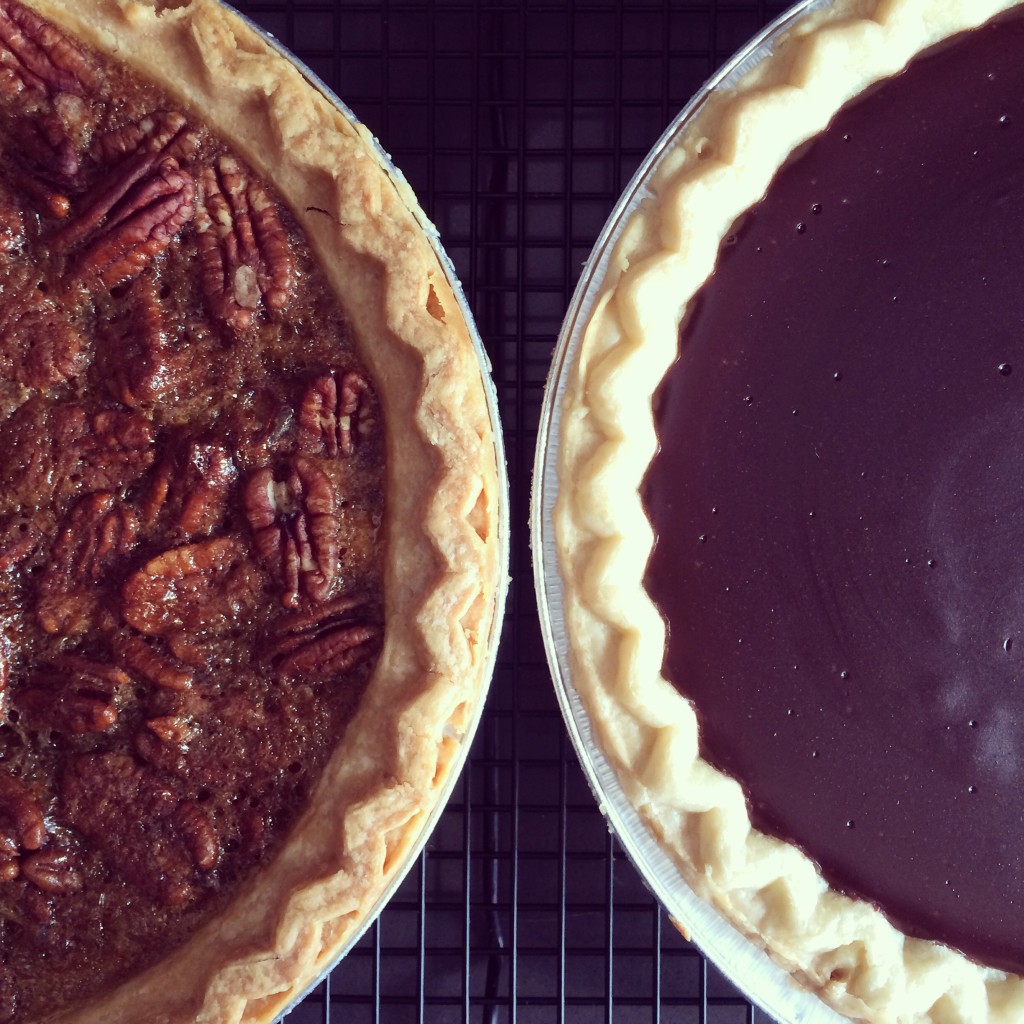 Do you live where there are four seasons? If so, where is your favorite place to see the fall colors?
In California the seasons are subtle, and quick to change, but they do exist and are quite distinct. There is a Summer season and a Winter season. They aren't what most people think of Summer or Winter, they just happen to occur at the same time. Spring and Fall are just the blending of one into the other.
What is your favorite fall tradition?
Taking photos of my children and dog in piles of leaves. I also enjoy participating in a Turkey Trot (5K walk or run) the morning of Thanksgiving, it's a great way to start a day of gluttonous eating!
Is there anything else special about the Fall to you?
I just love the drop in temperatures, wearing cozy slippers, sipping hot cups of tea, visiting pumpkin patches, the crunch of fallen leaves under my feet, rosy cheeks and starting to think about Christmas.
Related Posts: