Ever since Galit and Nicole posed the question, Who Do You Speak For?, it has been on my mind.

I have an amazing life but it has been touched with tragedy and loss. My heartaches are no deeper than yours.
I share my story here and it helps me more than I ever thought it would.
Or could. 
I speak for those who can't because they are no longer here, those who don't and those who won't. I share my story so that I don't feel so alone in my trials and growth and so that I may help somebody in a similar situation in the process.

I speak for my son in the hope that he will know me better and understand how much he is loved and adored. I write about his childhood and all the amazing (and sometimes trying) moments that bring joy to my life simply because he is here.

Sometimes I worry about revealing too much, but this is my space and these are my thoughts, feelings and memories and I always speak from the heart.
It is the only way I know.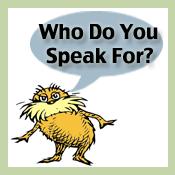 This post is for Galit and Nicole's Mother's Day linky, Who Do You Speak For?. I urge you to share the reasons why you blog and how you use your voice.

Related Posts: