A brief timeline to bring you up to speed:
October 2007 – my parents die while living and working in Tunis, Tunisia and my sister and I inherit their stateside home.
October 2008 – house is inspected and appraised, it is full of 16 years worth of life and memories.
December 2008 –  roof work completed.
March 2009 – estate sale.
September 2009 – entire interior painted.
November 2009 – new cabinets installed in master bathroom.
April 2010 – realtor walks through and provides laundry list of things to "take care of" before we should consider selling.
November 2011 – new appliances purchased.
January 2011 – new plumbing fixtures installed.
February 2012 – new tile installed.
March 2012 – new carpet installed.
July 2012 – flood.

I had no idea what we were going to find we when arrived at the house last  Wednesday morning.
All I knew was I had a $5312.97 water bill, the water had been shut off 12 days earlier because a serviceman had seen water rushing out the front door and a water removal company would be meeting us. 
I knew it was going to be bad.
I was not prepared for how bad.
A $2 coil that connects the toilet to the wall in the guest bathroom had come undone and did this: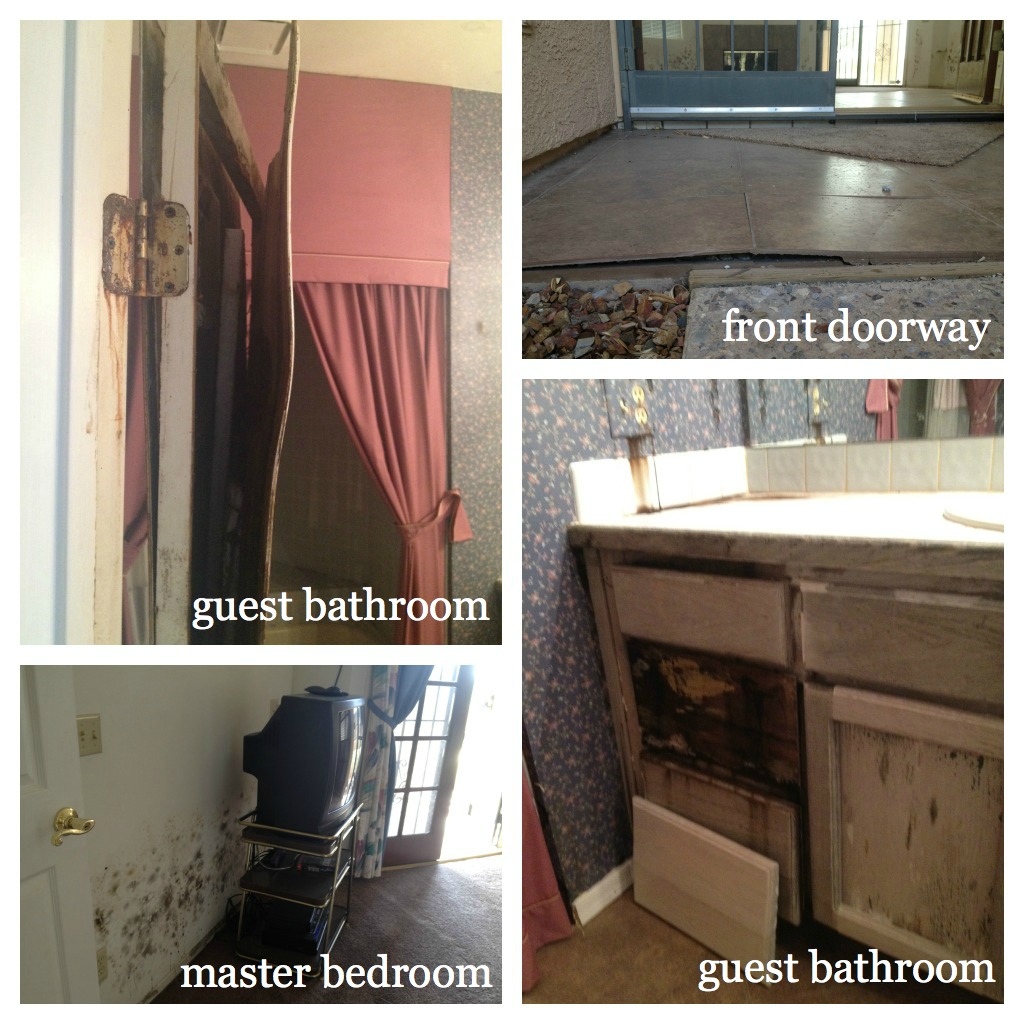 It was stiffing hot, hard to breath and the air felt wet.
Mold was growing on almost every wall.
I had never seen such damage. I walked around in shock for several minutes, not believing my eyes. Mushrooms were growing in the living room!

The water mitigation team went to work fast and have been amazing, explaining every step along the way and dealing with our insurance company too.
Within 24 hours, four feet of all walls in the guest bathroom, guest bedroom, hallway, two closets, foyer, master bathroom, master bedroom, living room and dining room were removed and dozens of fans were set up to begin the drying process.
Adding insult to injury, termites were found once the walls were taken apart, probably there for a long time but in some cases due to having new source of water. Nasty little suckers!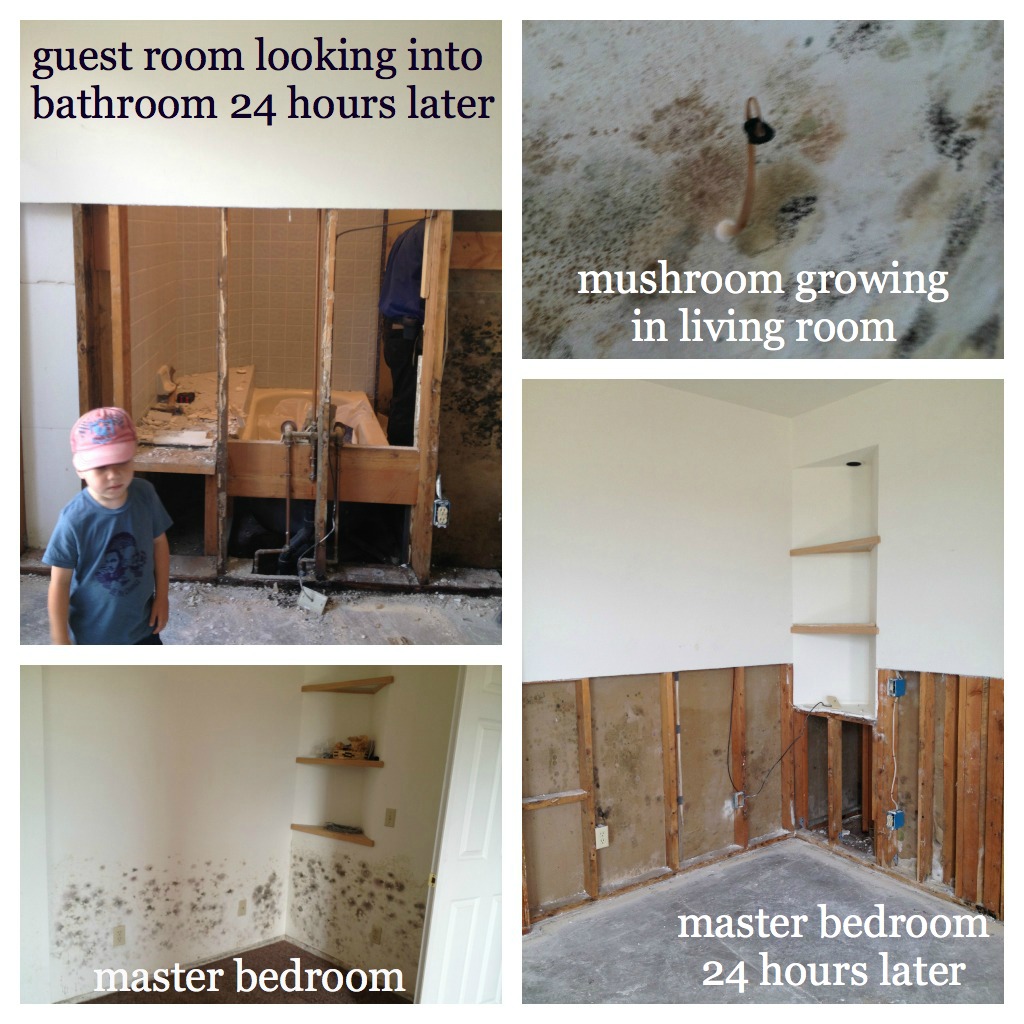 You may be wondering why the water was left on in an empty house and that is an excellent question. We figured with all of our comings and goings and all the different projects it was needed. We were stupid.
Many tears have been shed over the last week mainly due to the frustration, loss and all the time and energy that has been put into the house to get this far, but I'm trying to remain positive and look at the bright side…

Luckily, the house was virtually empty and the items that were still there, were located on the opposite end and saved from damage.
Luckily, the sunken living room saved the rest of the house from damage.
Luckily, there is no foundation problems or damage to the neighbors property.

Luckily, homeowner's insurance will help pay for a lot of the reconstruction but none of the mold or termite removal.

Luckily, Arizona is the driest place in the country.
Luckily, I have zero emotional connection to this house and am more determined than ever to get rid of it.
It is very difficult to see this house in this state, but it is just that, a house and hasn't been a home in years.

Related Posts: