One of BlogHer's 2012 Voices of the Year and big believer in what goes around, comes around, Jenny of Karma (continued) is my Letters For You guest today. Jenny's letter to her deceased mother-in-law is both gut wrenching and loving.
Too many times we let things go unsaid and with this letter, may we all be reminded how precious and short life is.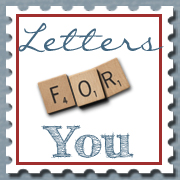 Five months since you've been gone.
Five months and six days, actually. And that feels like forever, and like no time at all. It's longer than we'd ever gone without talking, shorter than the time that had passed between your last visit and the last time I saw you.
I still do not believe you are gone.
You remain, everywhere. On my cell phone under "favorites," even though I rarely called. In my Amazon.com address book, for when we ordered you things you needed, or things we thought you'd like. Scribbled on the Anthropologie gift card you gave me for my birthday, just like you did every year. I can't bring myself to buy anything with it, even though I was just there, shopping for things to wear to a conference. I used my own money instead. Last year, you flew in to help your son watch our kids while I was at the same conference. Instead of being grateful, I was mad at you for finally coming to visit when I wasn't even here.
I almost used the gift card to buy a dress for your funeral. I didn't have anything to wear. I stood in the dressing room, tear-ravaged mascara streaked everywhere, wearing this A-line black shift, very chic, very timeless, just right for a funeral, and thought God she'd be mad if I used the money for this. So I kept the gift card and went to H&M and spent $20 and felt you would have approved. We had very different styles, you and me, but we loved clothes the same way—hungrily, passionately, endlessly.
Sometimes I'm still mad at you. I'm mad that your visits were so infrequent, that we never bonded the way I thought a daughter-in-law and mother-in-law were supposed to. I'm mad you never seemed bothered by it, when I would stew over the gap between us for days. I'm mad that we didn't ever understand each other. Mad that you let me be self-righteous and standoffish and so very immature, sometimes, when you knew better and you could have told me. But you didn't.
Mad that you loved me so much more than I ever knew.
Mostly, though, I'm mad at me. Mad for not sitting down to write you this letter when you were still alive, when you might have read it and understood. But then I flew there, to be by your side, and saw you looking so alive. I heard you laughing and made you a cup of tea and thought, "Of course she knows, how could she not know?" Because I felt it, then, watching you laugh with the veils stripped away. A blurry watercolor painting in focus for the first time. I have always loved her this much. Of course she knows that. I talked to you about my babies, your grandkids. I was always waiting for you to ask about them, to remember that E was taking ballet and that Baby N hated avocados. I was too busy being hurt by your silences, by the unasked questions, to stop waiting and just start talking.
Instead of writing the letter, I curled up near you on the couch and read my book and watched the news and measured out your next dose of medication. I brushed aside your thank-yous. I pretended it had always been like this, and that it always would be.
She always talked about what an incredible mother you were. Your cousin Linda told me that, in the confusing, shattered days afterward. She thought you were exceptional. You never told me…never!…and now I have to believe those words I'd have given anything to hear from someone else's lips while yours are forever silenced.
It's pointless, of course, all this madness. And you knew that too. You always knew it. It is only now, as I look back and miss you and try to hold the pieces of my husband together while he endures the agony of your loss, that I can see all those silences for what they really were. You understood. You could see forwards and backwards with a clarity I will forever envy, forever seek to find.
You loved me anyway.
So this letter is for you. Too late, of course, though I would not trade that cup of tea for a hundred letters like this one. I can only pray that you felt what I did. That those last moments (though we didn't know they were the last) were enough to seal the cracks and make us whole again. This is letter is to tell you that we are fine, that we love you and miss you and think about you every day. We are trying to make you proud. We are trying to live in a way that is exceptional, and carry on the legacy of what you believed we were capable of. I promise to stop waiting, to just start talking, in the moments I have left in this world with the people that matter most.
And this letter is to say I'm sorry. For all the silences, yours and mine, that slipped away before we could understand them, for all the words I didn't say that I should have. I whisper them now and hope that wherever you are, you can hear me.
Thank you for giving me the greatest gift I've ever known.
I think you were an incredible mother, too.
 Please follow Jenny on Twitter, Facebook and Pinterest.
Related Posts: