I had the pleasure of meeting Jen of Buried with Children at BlogHer 2011 in San Diego. I am pleased to have her as my guest today with a letter to a process so grueling it rivals childbirth and Jen has four kids, people!! Triplets and their older brother. Please keep reading…

It was not my plan to get a cat from a shelter. But when one of the free kittens we got from a man off craig'slist became sick and died, I decided going to a reputable shelter would be they way to go since I never ever want to tell my children again that their pet of 5 days died.
Talk about sucking the joy from life.
I was so drained from that experience that I spent a week on the couch. Doing nothing but eating bon bons and watching TV. When the kid's began to sit on me because they thought I was part of the couch and an air freshener ended up on my ass to hide the stink, I knew it was time to move on.
The kids, on the other hand, they bounced back right way and in no time at all were asking when we could get another cat.
I was determined to get a healthy cat so I did the responsible thing and called our vet to get the name of a local shelter. I found the shelter online and it was then that I became aware of the whole cat adoption process.
First, was the online application which was more involved than any application I ever filled out to become a nurse in my chosen profession. I needed to provide references, sign a wavier for a background check and submit a detailed history of past animals in our care.
Then there was the written essay where I had to use 250-500 words to tell them why we wanted the cat and why our home would be good for one. I told them about how a cat would complete our home and described in detail how we would care for them, what kind of food they would eat and how we'd give them catnip as to keep them happy.
And lastly, there was a home visit. Yup, two people from the shelter would come to our house and evaluate it to see if it was suitable for a cat. What this really meant is that I had to spend time cleaning and organizing our home, something I don't even do when my mother comes over to visit.
Do you know what I had to go through to become a parent? I got a bottle of wine and said to my husband, "Hey, you wanna do it?"
Since I want to make my kids happy and hopefully erase any scars that a pet death could leave, I did all those things and then waited. I figured it take at least a month for our information to be processed but much to my surprise the next day, I received an email. We were approved.
Things were suddenly moving a lot faster than I thought, which had to be because my essay was so powerful and moving, and the next day with the kids in tow, we headed to the shelter.
I have never in my life seen so many cats in one place at one time. I couldn't tell if the floor was carpeted or just had back to back cats lining it. We were led into a small room filled with about 15 kittens and told to get know one. Not an easy task since my rambunctious children entered the room, jumping up and down, stepping on a cat or two causing all the 'smart' ones to run and hide.
From the few that were brave enough to stay out in the open, we choose our cat. I figured we'd have to leave the cat there and come back another day but I was wrong again. Because the cat adoption aid said, "Alright, let's have you sign some paper work and you are free to take the cat home."
I looked at her dumbfounded.
"What-what about discussing the application?" I stumbled, in complete shock,"And the home visit? I cleaned my house for you. I prepared myself to be judged and deemed cat-worthy."
She looked at me like I had lost my mind. "Do you want the cat?" she asked again.
"YEAH!" all the kids screamed, answering for me so I nodded in agreement.
"Then sign this paper that says you will never declaw the cat and he is yours," she stated
In a huff, I took the paper and signed it. I wondered how in the world this rule of 'never declawing our cat' would be enforced all the while making a mental note to expect a surprise visit from the cat gestapo.
We coaxed the cat into our carried which was much like trying to get a round peg in a square hole and we left.
As we drove with our new cat, the kids meowing at the top of their lungs, I reviewed this weird process in my head and decided, the next my kids want a new cat, I am just going to have another baby.
Signed,
The 'used to wanna-be' Cat Lady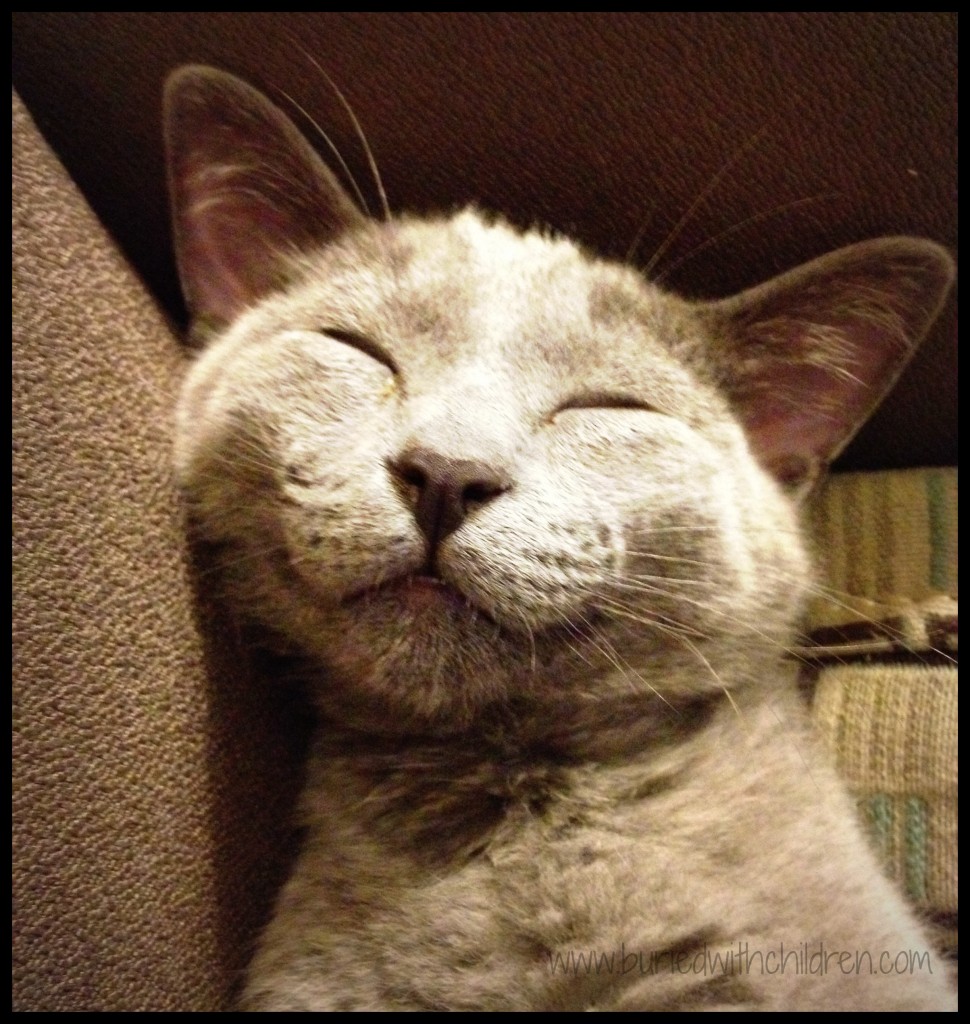 Follow Jenn on Facebook and Twitter.

Related Posts: