Music helps me.
For as long as I can remember I have sang along to my favorite songs and other tunes that I just couldn't escape. For every major milestone in my life, I can associate a song. Certain lyrics speak to me and make me feel better; or worse depending on my mood. But they always assure me I am in good company; that someone in the world has felt exactly what I am.
I've shared some of my favorite workout tunes before and that playlist is ever growing and changing. I need songs to lift me up and give me that extra ump to sweat a little longer, run a little faster and challenge myself.
I've had a little bit too much
All of the people start to rush.
Start to rush babe.
A dizzy twister dance
Can't find my drink or man.
Where are my keys, I lost my phone.
Just Dance – Lady Gaga

While planning my wedding I put together a playlist of timeless love songs and listened to it as I got ready, walked down the stairs of our house, out into our backyard and met my groom. From there on, a solo guitarist took over, but whenever I play that playlist, I am right back there taking my father arm and descending the staircase.
You know me better than that
Think I'd leave you down
When you're down on your knees?
I wouldn't do that

By Your Side – Sade
When my parents died, I created a playlist of songs that would guarantee to make me cry. Like big ugly, crocodile tears cry because sometimes I'd walk around for days with a lump in my throat and finally just had to let it out. I'd give in, press play on a playlist I called "Amazing Grace" because that was one of my mother's favorite songs and let the tears flow. It is a healing mix of deeply personal songs and family favorites and I always felt a little better afterward hearing it. A good cry often has that effect.
But all that I know is I'm breathing
All I can do is keep breathing
All we can do is keep breathing now
Keep Breathing – Ingrid Michaelson
Before Lucas was born I put together a collection of songs aptly titled, "Birth Day" that I had hoped to listen to while in labor. Things moved too fast for me to even grab my iPod the night he was born, but I listened to that compilation over and over and over in the weeks and days leading up to his arrival. The songs were dreams I had for my son, uplifting and hopeful.

My wish for you
Is that this life becomes all that you want it to
Your dreams stay big, your worries stay small
You never need to carry more than you can hold
My Wish – Rascal Flatts
This year I made a new playlist full of songs of empowerment, triumph,  strength and promise. Each one screams: don't give up! They have become my anthems.
I have died everyday waiting for you
Darling don't be afraid I have loved you
For a thousand years
I love you for a thousand more
A Thousand Years – Christina Perri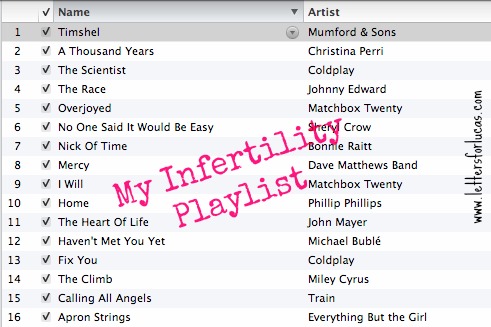 I am pretty sure the artists included on this list weren't singing about infertility, but they work.
For me.
What are your go-to songs when you need a good cry, a swift kick in the pants or gobs of inspiration?

Related Posts: