Leigh Ann of Genie In A Blog is my guest today with a letter I SO wish I had received upon entering college, when all I had to worry about was scheduling my classes so I wouldn't miss All My Children.
Oh, those were the days….
And if I think I have my hands full now, Leigh Ann has four year old twins and their little sister to keep her on her toes and still somehow manages to be a big supporter of Letters For Lucas and many other bloggers. Please welcome Leigh Ann!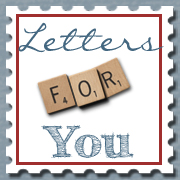 Dear young, naïve, freshman in college Leigh Ann,
I know what you're thinking: letters to our younger selves are like totally overdone, right? For sure. But listen up anyway.
You're leaving home to start a new adventure at one of the largest universities in the country. It sounds daunting to some, but you're looking forward to the prospect having classes so large that you'll never be singled out to participate much. Of course you'll study and do well, but speaking up? Not really your thing. But don't get swallowed up in the vastness. There is so much you need to discover not just in this amazing city, but in yourself. And as your [slightly] wiser, older self, there are a few things that I want to tell you before you start the roller coaster ride.
Be adventurous. You have some old friends to hold your hand through the newness, but don't grasp onto them too tightly. Go out and experience any and every new thing and activity that catches your interest. Take at least one taste of everything that looks good on the buffet. It's the only way you'll find out what you truly love. And you know I'm talking about the proverbial buffet, not the actual one, right? Because hellooooo freshman fifteen.
Talk to people. I know. You're shy. You're an introvert. You usually  make an ass out of yourself when you open your mouth. It's bound to happen. But the only way you're going to fix that is by socializing. A drink or two definitely helps. Which brings me to my next point.
Don't be the drunk girl at the party. After being a staunch rule follower in high school, there's no one telling you what to do or when to be home. Losing control will be easier than you think. Just remember that there is no prize for the most blitzed girl at the party, and even if there was, well…let's just say that she'd be too drunk to notice anyway.
Be careful.  I know you think you're invincible, but you're not. Don't put yourself in a situation that you may not be able to get out of. When you've had a few drinks and your friend Mike offers you a piggy back ride? Don't do it. ER staff has very little sympathy for inebriated college kids who split their heads open doing dumbass stunts.
Relish in your free time. You won't see much of it when you start working your sophomore year. Sit in your friend's dorm room one night and laugh your ass off making prank calls to other students instead of studying. You won't remember whether you aced or bombed the test, but that night will always be one of your most cherished memories.
Love yourself. That guy you're dating? I think he really does like you, but he's not interested in a serious relationship. The two of you are in very different stages of life right now. He's not treating you very well, and you need to know that you deserve better. You deserve to have fun and not worry about whether he'll call. Because someday he won't, and that's okay. This is also a good time to review the above point about not being the drunkest girl at the party and what not. It's not a good look for you, and it won't ease your aching heart.
And when he starts calling you again the next year, run the other direction. He's not worth it.
Be a good friend. So be there for them too. Listen. Swallow your pride when you don't want to admit you're wrong. Give your friendship to them without wondering what's in it for you. Work to solidify these new friendships, but don't forget to nurture those you have cherished for years. Because if you don't, all of your new experiences and friendships will quickly squash out the ones you who have been there all along.
And it wouldn't kill you to be the designated driver once in a while.
Be confident. I know this is a hard one for you. You're a small fish in a very large pond, and it'll shake your confidence in your abilities. You'll feel out of place in your Gap jeans and cute tee, walking into a studio full of kids who look like they all got off the bus from Hipsters R Us. Make friends with these people. You'll be sharing the same building and studio spaces for the next four years. Their piercings, tattoos, and Doc Martens don't make them better artists. You're talented. Chances are they're as insecure as you are. Work hard, and your work will speak for itself. Also, maybe try and branch out style wise, mkay? Go ahead and get that cartilage pierced, you rebel. Your mom will totally hate it.
Grow. Take each experience, positive or negative, and learn from it. Hold those lessons close to your heart, because they will shape who you will be in the next 1, 5, 10, or maybe even – gulp – 16 years. I know you have no idea who you are right now, but don't be so timid that you are afraid find out.
You will hurt.
You will laugh.
You will cry.
You will be fine. You will be better than fine.
Because I know you now. You've grown a lot, learned a lot, and changed a lot. And I think you're pretty awesome.
Oh, and stay away from the late night cafeteria hours. You know, where they serve the breaded and fried chicken Wow Rings? Just trust me on this one. Your thighs will thank you.
Signing off,
Your 34 year old self
Follow Leigh Ann on Facebook, Twitter and Pinterest.
Related Posts: