Elena is one busy mama, she tells the story of making every moment matter by living, doing and growing as a freelance writer, social good advocate, runner, cancer survivor, and dream chaser. Elena believes in empowering others as founder of Just.Be.Enough. and shares her passion for travel and the dolce vita as Internal Community Relations Director and contributor to Traveling Mom.
I am thrilled to have her here today with a lovely letter to her daughter about taking the training wheels off and flying.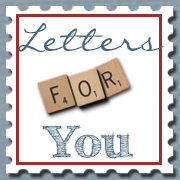 Dear Principessa,
It was the Spring of 2009, armed with training wheels and your Dora the Explorer map, our neighborhood was your wonderland. You peddled around innocently on four wheels, for two years, until every pedal stroke was accentuated with your knees cresting over the handlebars.
It was time for a big girl bike… A bike with TASSELS and a horn on the handlebars that would convince you to leave the ditch the training wheels. You were six years old, and it seemed like a no brainer.
Except that you would not try. You outright refused, because of course, you are my daughter and your stubborn personality is unwavering. We consulted "experts" and tried teaching you to glide, still on your smaller bike, thinking that you would learn balance and gain confidence. It had to work.
Again…not so much. Gliding was fine and good, but there was no convincing you to try without the training wheels on your bigger bike. Not even the power of those light blue tassels that you loved so much, could sway your unbending determination.
2011 became 2012 and still, your will was steady. We raised the training wheels on your big girl bike so that they were almost off the ground, which you detected immediately, causing you to never want to ride, even with the training wheels. Facing a war of strong wills, we made the small bike  AND the training wheels "disappear" leaving you no choice but to learn to ride the big girl bike, sans training wheels.
Which of course, did not help. Nothing helped…not even bribery. You did not care that you were an eight year old that did not know how to ride a bike. While the lure of riding our bikes together to get frozen yogurt was appealing, it was not enough to push you to action.
And then… my dear sweet daughter, 2013 transformed you. I knew there was shift in the bike riding atmosphere when an innocent comment on my part that maybe this was the time to try again, was not immediately shot down. Thinking that I should take advantage of this atmospheric abnormality, I suggested a time based incentive. If you could learn to ride your bike in two weeks, the American Girl Doll accessory that you had been eying would be yours.
At first you tried the "when I am older" act of pushing the challenge into the future… but oh my sweet daughter, my stubborn personality still has a few tricks up my sleeve. The offer was for these two weeks…after that, all deals were off the table. I was not sure that my clever plan would work, until all of a sudden, you marched out of the house, making a bee line for your bike.
I might have squealed out loud in excitement.
Over the course of three determined days, you learned all on your own. The smile and pride that emanated from your little face was telling…. an inner confidence had taken hold, and there was no stopping you. Realizing that all of a sudden you could glide down the driveway and stay in control, gave way to putting your feet on the pedals. I attempted to give a few pointers here and there, but really, I was just in the way. You had this. This was YOUR moment.
I suddenly understood something about you that even in my "infinite" wisdom, I had not grasped.
Learning to ride a bike with no training wheels had nothing to do with incentives or bribery or my parenting. You learned when you were good and ready. You learned when it mattered to you. The pride you felt after that first set of pedal strokes was magical because you had been the master of your own bike riding destiny.
I have news for you, my dear two wheel bike riding daughter.. .you are just getting started in this thing called life. Teaching yourself to ride this bike taught you to trust yourself, to be resilient, and that over time you can achieve ANYTHING. There will be falls in your future. From your bike, and in life. But by teaching yourself to overcome this challenge, you did more for yourself than I ever could as your mom.

The only thing left to do…is to keep pedaling. On and on. Oh, and get a new even bigger girl bike, because over the course of three non biking riding years, you grew… so very very much.
Love,
Your Mamma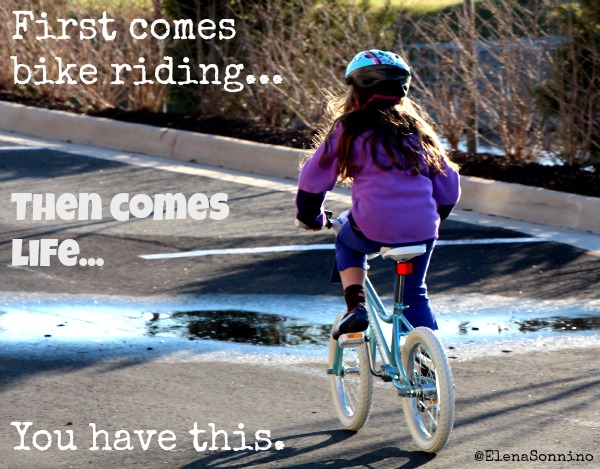 Follow Elena on Facebook, Twitter, and Pinterest.
Related Posts: