'Twas the week before Christmas and all through the house
There were piles and messes and somewhere a spouse.
With all the shopping, decorating, cards and baking,
'Tis the season, there was no mistaking.
With family on their way and a new home to set up,
The pressure inside my head is about to make me erupt!
With my to do, to buy, to return and to wrap list long,
I couldn't help wondering where I'd done wrong.
I'm an organized person, I should be more on the ball,
But with a busy four year old on top of being 34 weeks pregnant, I'm afraid I can't do it all!
Carrying a heavy load and wanting everything to be perfect,
Is not only stupid, it's highly unrealistic!
With visions of a new baby girl swirling around my head,
It dawned on me that I need to take a step back in order to avoid all the dread.
It'll all get done, one way or another.
I'm not a super hero, just another busy mother.
So with only seven days left to prepare
For only one of the biggest holidays of the year,
I'm raising my red flag and asking for HELP,
Seriously. Anyone will do, just yelp!
It's taken me a while to learn that the holidays are meant for making memories and having fun,
Not crossing stuff off a list that you've done.
So instead of being busy, stressed out and uptight,
I've decided to light a fire, sit in front of the tree and put up my feet tonight.
I hope your week goes according to plan,
But if not, take after me and ask for a helping hand,
And above all else, please make time to enjoy,
Surround yourself with smiles, laughter, love, cookies and joy!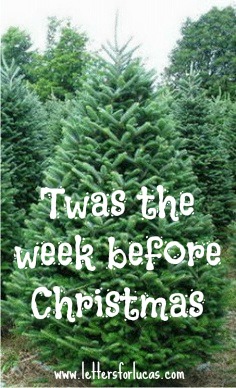 Related Posts: