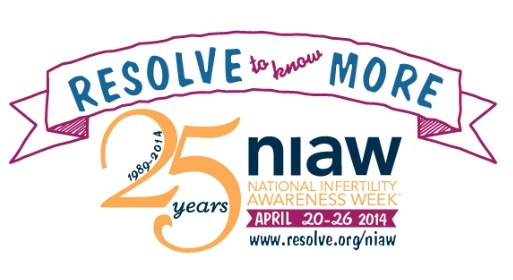 One in every eight couples in the United States are affected by infertility.
Nearly six million families are childless. Some chose this option, but many more long for children that never come.
According to the National Survey of Family Growth, more than 1 million couples grapple with secondary infertility, a couple's inability to conceive a baby, even though they've had at least one child in the past.

My husband and I are one of these couples. Since Lucas's first birthday, I have had five miscarriages, one with the aid of IVF treatment and one incredible success! 
April 20-27 is Infertility Awareness Week and each year during this week I will write about my personal battle and reflect on the ups and downs that consumed my life for three and a half years as my husband and I longed for a second child. I will think of others that faced the same fight and either beat it and have a precious child in their arms or are at peace and have moved on from it. And in my heart, I will always hold a special place for those currently in the thick if it, hoping, wishing and praying for a miracle baby of their own.
I have and always will be open about my struggle with infertility. I could have never have suffered in silence. Not everyone is like that.
I got my miracle baby, my sweet Lola and I am grateful for what I had to endure to get her. You read that right, I am grateful for my struggle with infertility. Not everyone can say that.
I know what you're thinking… Yeah, sure you can say that now that it's behind you and you have had success, but I honestly really wouldn't change a thing. Sure I wish it hadn't taken so long or cost so much, but my battle to have a second child put me in places where I know my ego would have never otherwise taken me. Working so hard for something at the end of the day I had zero control over made me trust others like I never have before, relinquish control and be the most vulnerable I ever have been in my life. I learned a lot about myself too; my tolerance for stress, pain and heartache and how to be patient (or at least patienter). It gave me strength and made me grateful. It is behind me, but I will always remember the pain, the tears, the roller coaster ride.
I also made some amazing friends who were or continue to be struggling too and there is nothing in the world like not being alone. Fighting the most difficult battle of your life can be isolating and very lonely.
I hate that anyone has to deal with infertility issues, but if you are or someone you love is facing this battle, please visit RESOLVE, the National Infertility Association Website and attain the support you need to make the best decisions for you and your family.
You are not alone. Do not give up hope.

Related Posts: