Jimmy Fallon and his wife recently welcomed a daughter and revealed that they spent years trying for a baby before it finally happened via surrogate and I love what he shared with Savannah Guthrie on The Today Show…

I know people have tried much longer [than we have], but if there's anyone out there who is trying and they're just losing hope, just hang in there. Try every avenue; try anything you can do, 'cause you'll get there. You'll end up with a family, and it's so worth it. It is the most 'worth it' thing.
So perfectly put.
After throwing everything we have at our secondary infertility and it has been a very long three year battle, my husband and I are finally expecting a baby! 
I shared our amazing news on Facebook and Instagram today and I am touched by the out pouring of love and congratulations. So many of our family and friends and wonderful people I have met through blogging and sharing our tale have been rooting for us and supporting us throughout this difficult journey. Part of me still doesn't believe it! I keep waiting for someone to pinch me.

If you have been reading my blog for any length of time or know me IRL, then you know I keep track of everything, so I wanted to share this list.
I share it, not as a formula for how to have a baby if you or someone you know is struggling with infertility and by no means as a way of comparing what we went through versus what you may be experiencing, I'm sharing it because as a society, we need to talk about this disease more and everything that it encompasses; the ups, the downs and all the challenges and in between. This is a topic that I am very passionate about and I believe always will be. 
After…

Tens of thousands of dollars spent,
95 Four Square check ins to my fertility doctor's office, 
45 (and counting) acupuncture sessions,
16 failed natural cycles,
12 therapy sessions (a mixed blessing of discomfort and insight),
10 RESOLVE support group meetings,
6 Facebook support groups,
5 miscarriages,
3 friends who kindly gave me shots when Todd was out of town, 
3 failed IUIs,
2 D&Cs
2 OBGYNs,
2 acupuncturists,
2 reproductive endocrinologists,
2 failed IVF cycles,
2 2AM 24-hour drug store drive-thrus for syringes,
2 needle/hazardous materials spills in my car,
2 visits to a psychic,
1 major meltdown in the baby aisle at Target,
1 trip to the ER,
1 participation in a panel discussion on infertility,
1 infertility column,
1 amazing team of doctors, who I could never thank enough,
a library worth of books on infertility collected and read, and
countless doctor visits HOURS spent sitting in waiting rooms, blood drawls, ultrasounds, angry phone calls to our health care providers, prescriptions filled, pills popped, herbs choked down, shots in the abdomen and ass, boxes of Mucinex taken (don't ask), negative pregnancy test results, bottles of wine consumed, heated discussions over finances and priorities, prayers and wishes made and tears shed, (so many tears).
After all this, I am smiling from ear to ear, grateful for this moment and overjoyed to share this perfect photo: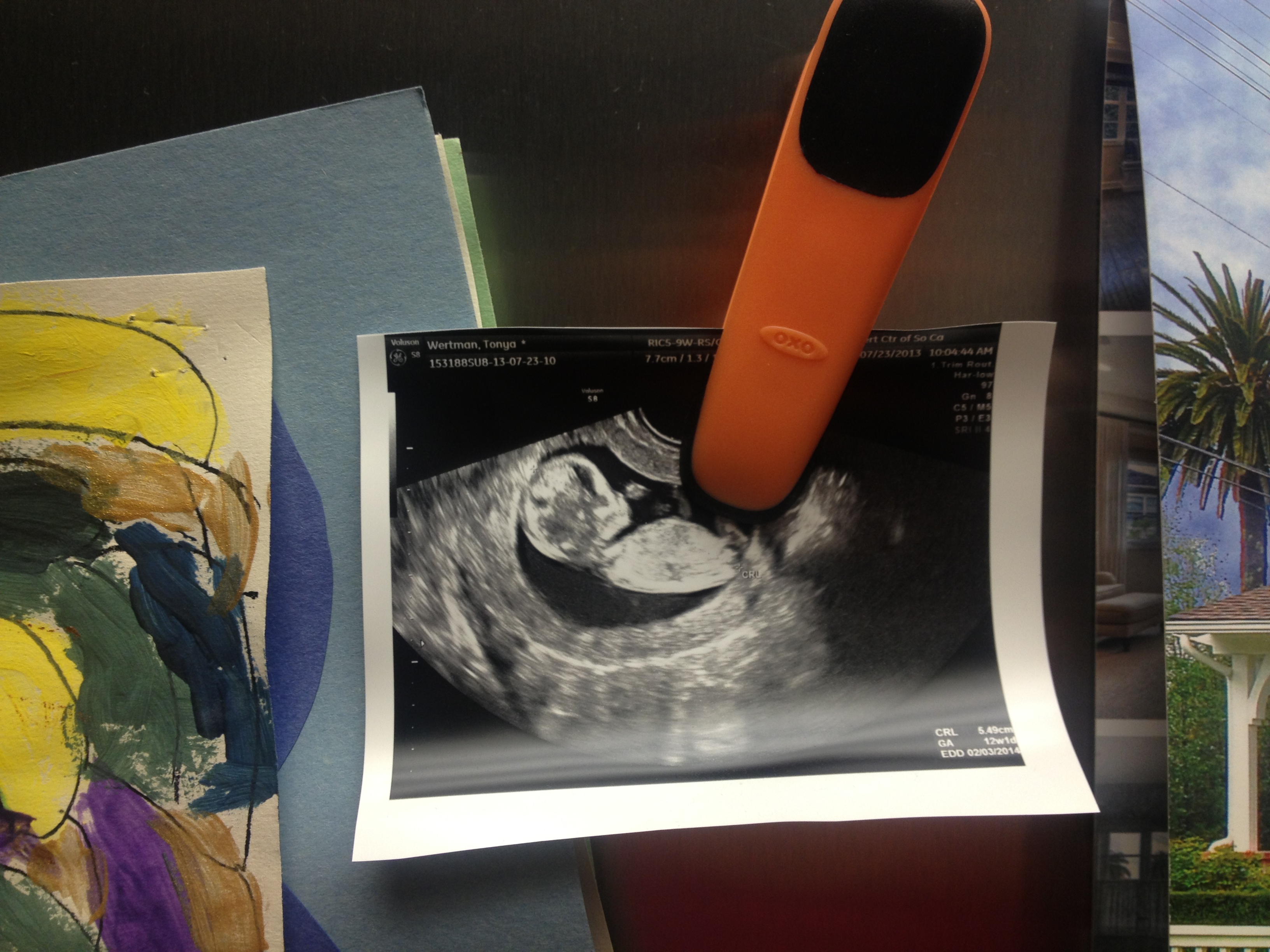 I refused to give up the fight.
I would not give up hope.
I could not squelch the longing.
I believed in miracles.  
Related Posts: