Have you ever felt giddy over getting another stamp in your passport?
Have you ever been approached on the street in Yaletown and asked if you needed help with directions, restoring your faith in the kindness of strangers?
Have you ever been caught in the rain on Robson Street and laughed so hard you cried?
Have you ever seen a twinkle in your husband's eye as he points out the building he used to live in on Georgia Street?

Have you ever sang karaoke to a room full of strangers at Hollywood North and it made your heart do cartwheels inside your chest?

Have you ever tasted the tomato soup with goat cheese at Cardero's in Coal Harbor and swear you could eat it every day this winter and never grow tired of it?
Have you ever felt as though your problems at home really were a million miles away?
Have you ever pushed your son's stroller through Stanley Park?
Have Aurora and Qila, the beluga whales at the Vancouver Aquarium ever smiled at you?
Have you ever walked across suspension bridges 230 feet above the Capilano River while your knees quaked with fear?
Have you ever taken a photo of your husband and son swimming in the hotel pool from your 22nd floor window?
Have you ever celebrated Thanksgiving with filet mignon and chocolate cake at Hy's Steakhouse?
Have you ever written the top 10 items you are most grateful for on the back of a wine list in crayon?

Have you ever watched your child experience something as magical as snow for the first time and it completely took your breath away?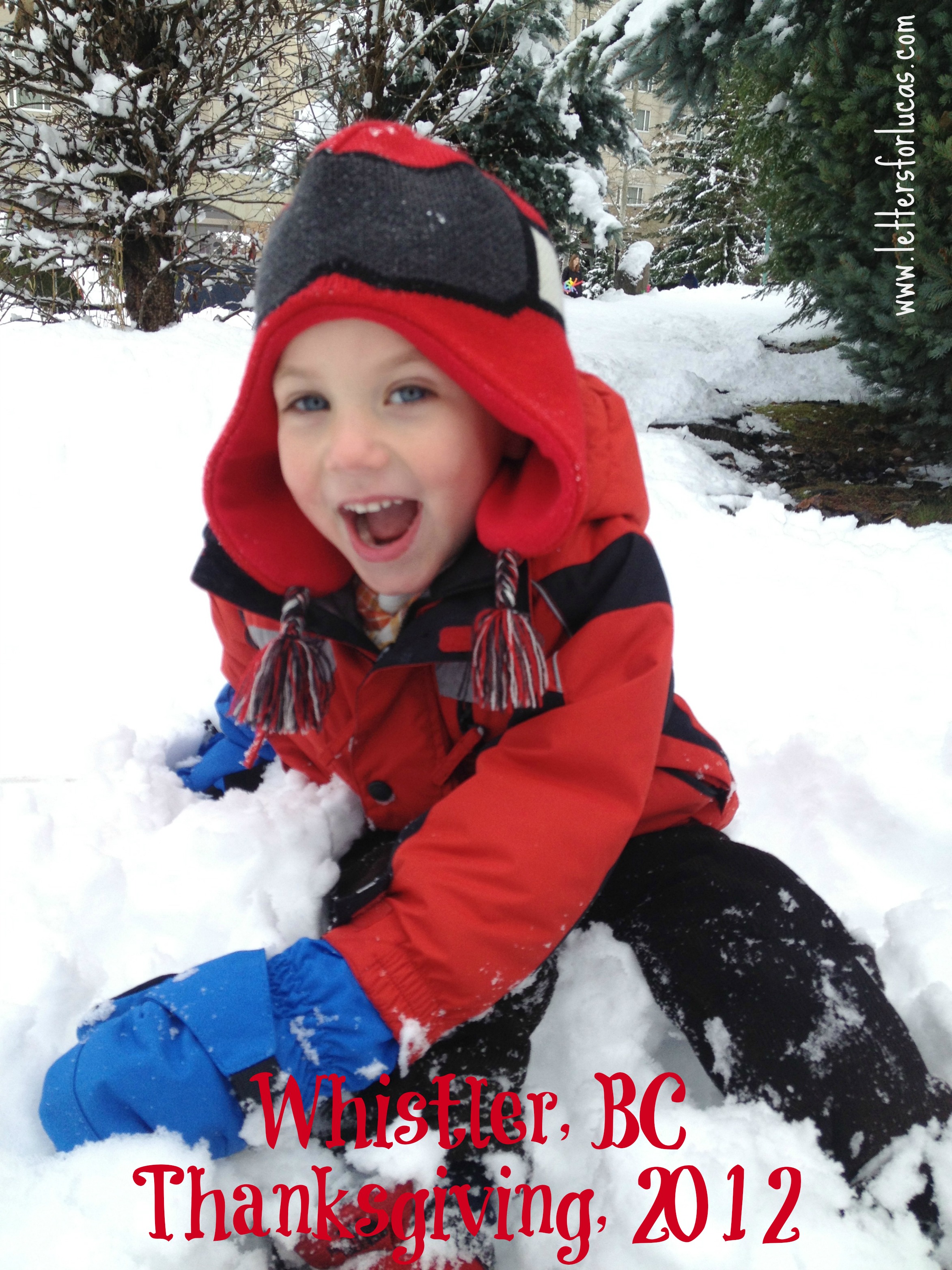 Have you ever been in 32 degrees, worn four layers of clothing and still couldn't get warm?

Have you ever heard the delicate sound of snow melting off of tree branches?

Have you ever watched the pastry chef at Chateau Whistler masterfully assemble a life-sized gingerbread house in the lobby?
Have you ever bought souvenirs at Granville Market?

Have you ever been to a place that you just couldn't describe in words?

Have you ever been to British Columbia?

During our week in Vancouver and Whistler I had all of these sensations and experiences. My senses were truly on overdrive and it was an amazing week. We are already planning our next visit.
Related Posts: