Ugh! I'm a mess. I honestly don't know if I'm coming or going.

I do know that I have become the worst blogger ever. No, that can't be true. I am the worst guest host ever. My weekly series, Letters For You is suppose to run on Wednesdays (technically, Tuesday nights) and here it is almost FRIDAY and I am just now posting this. I literally lost an entire day this week.
My sincere apologies to Jennifer, my guest and all of you waiting with bated breath.

Jennifer of Jennifer P. Williams (previously, Mom Made It Look Easy) is my guest today.
Jennifer has lost something and would love to have it back…. Good God, can I identify as proven by my lackadaisical mind this week.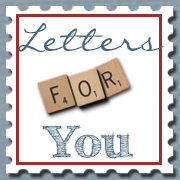 Dear Mojo,
I hope this letter finds you. I know it has been awhile since we've hung out, and I'm not sure whether or not you've moved. All I know is that I can't seem to get in touch with you. Did you leave me Mojo? Did you? You can tell me. I promise I can take it. Was it Hormones? Did she scare you away? I know she can be a real bitch, but she's only around a few days a month. If I promise to try to keep her under control will you come back?
If it wasn't her, could it have been Lazy? She's been showing up a LOT lately, stinking up the place, throwing her dirty laundry everywhere. I can definitely understand why you wouldn't want to hang out with her. Do you think you could come over for a visit if I kick her out? I know Creativity has been missing you. She's been throwing around ideas like crazy, but without you she can't seem to do anything with them. You really are the glue that holds the whole Right Brain thing together.
Or is it me? Have I pushed you away with Distractions and Excuses? I promised at the beginning of the year to keep my focus, but sadly, I feel that between sometime then and now I've lost it. I wanted to do great things this year. I wanted to write and take photos and organize my house and update some of the rooms. It feels like you, Mojo, and Focus are the knife and the fork, but instead of running away with the spoon, you've ran away with me. The real me. The me that yearns to do and be and think and feel more.
I need you back. I need my essence. I need my drive. I need that thing that makes me me. I need you. You complete me. See, I can't even do better than a corny movie line without you. Please. Come home.
Love always,
Jennifer
Related Posts: