For over a year, I have been a proud member of an online blogging group and these women are amazing in so many ways.
Their words lift me up when I'm feeling low, they are wise and supportive, strong and hard working, funny and real! They are sensitive and sweet and sometimes a little crass, which I happen to love! I honestly don't know where I would be without them.
This is a closed group and not to sound cliquey, but a very exclusive one. I was lucky to be asked to join.
The oddest (for lack of a better word) thing about this incredible group of fellow women, mothers and writers is that of the 29 members, I have only met seven in real life. Now, anyone that says that online friends aren't real, hasn't ever met women like these!
Throughout my struggles with secondary infertility, this group not only shared my words through their social media channels but shared their own personal stories of longing and then hoped and prayed right there with me that someday I would be able to get pregnant again and when I did, they shared my joy, worry and happy tears.

In the weeks leading up to Lola's birth and even since, a package (or two) has arrived on my door step each day and each day I have been overwhelmed and deeply touched by the gifts of love we have received.
Packages have come from all over the world and here is just a small sampling of what has arrived: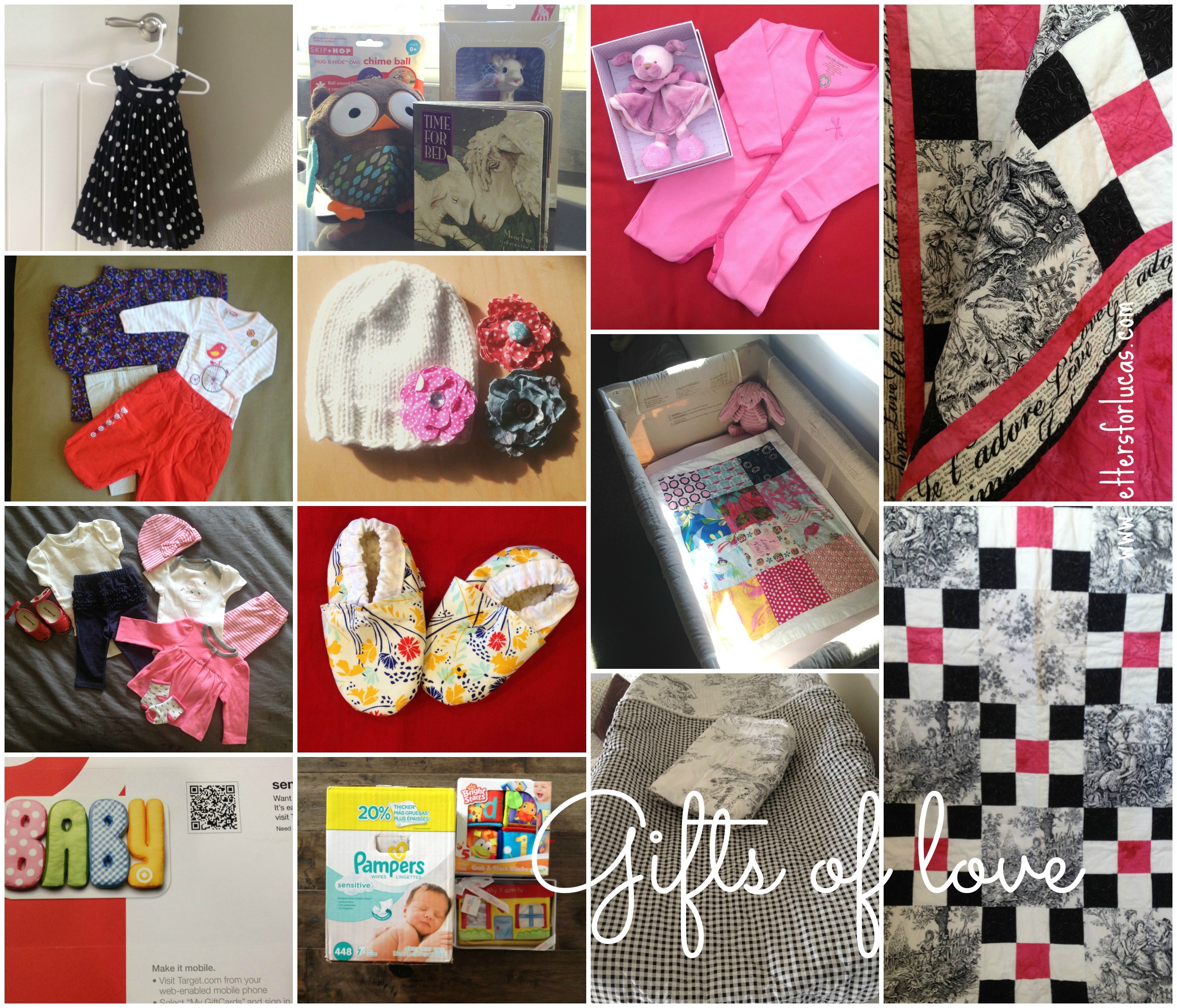 Here's what arrived yesterday:
If you don't already know the following women, you should!
Alison of Writing, Wishing
Kiran of Masala Chica
Erin of The Road to My Writer Roots & The Gay Dad Project
Laura of Mommy Miracles
Tracy of Sellabit Mum
Natalie of Mommy of a Monster & Twins
Robin of Farewell Stranger
Jennifer of Jennifer P. Williams
Greta of Gfunkified
Brittany of That's Vandy
Deborah of Ask Doctor G
Elaine of The Miss Elaine-ous Life
Sarah of Little White Whale
Arnebya of What Now and Why
Poppy of Facing 40
Kristin of Two Cannoli
Angie of Angie Kinghorn
Angela of Angela Amman
Jennie of A Lady in France
Galit of  These Little Waves
Leigh Ann of Genie in a Blog
Keely of Lollygag Blog
Katie of Sluiter Nation
Anna of An Inch of Gray
Andrea of About 100%
Kim of  Co-Pilot Mom
Kerstin of  Auer Life
Kirsten (Kir) of The Kir Corner & KirstenAPiccini.com
Jessica of My Time As Mom
Thank you, ladies. Not just for the generous gifts to help my family welcome our sweet miracle, but for your friendship.

Related Posts: